Continuing HCMC high level delegation's working visit to the Lao People's Democratic Republic, Mr. Nhan paid a courtesy visit to Mr. Bounthong Divixay, party committee secretary and governor of Champsak province.

At the meeting, Mr. Nhan said that last year HCMC and Champasak province continued implementing contents in the cooperation Memorandum of Understanding (MoU) in the phase of 2016-2020 which the two sides have signed.
He affirmed that the city will continue carrying out cooperation and assistance programs to the province, calling on Vietnamese firms to invest in Champasak, intensifying exchanges activities between the two countries' youth unions and youth volunteer activities to assist Champasak residents in education, culture, sports, house construction, health care and treatment.
The secretary proposed that in the next three years, the two sides will specify cooperation programs in secondary, high school and university education to improve Vietnamese teaching and learning quality for Vietnamese and Lao teachers and students and contribute to the province's human resource training.
In addition, HCMC is willing to support the province to improve and computerize its tax management and collection system.
It is expected that another high ranking delegation from HCMC People's Council led by chairwoman Nguyen Thi Quyet Tam will visit the province and share experiences in supervision mechanisms in urban management and investment policies in March this year.
Mr. Nhan hoped Mr. Bounthong Divixay to continue instructing the agencies to closely work with relevant sides to make clear the province's need, especially in hi-tech agriculture, so that HCMC and the province can put forward specific cooperation directions and diversity economic cooperation forms.
Mr. Bounthong Divixay expressed his gladness on the visit by the HCMC high ranking delegation, believing that the visit will intensify and tighten the friendship and comprehensive cooperation between the city and the province in separate and Vietnam-Laos in general.
For the last many years, HCMC and Champasak have worked together in many fields. On the occasion of the visit and through HCMC leaders, the province continues inviting Vietnamese firms to invest in Champasak.
He also expressed his deep gratitude to Vietnam and HCMC's supports to the province.
On the same day morning, secretary Nguyen Thien Nhan and the delegation visited Laos' former General Secretary and President Khamtay Siphandon in Paksong district, Champasak province.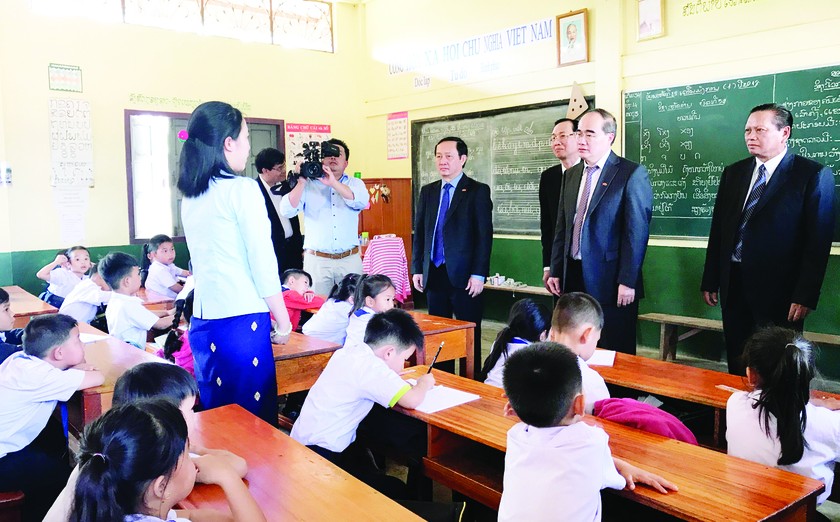 Secretary of HCMC Party Committee Nguyen Thien Nhan visits a class in Huu Nghi primary school, Laos (Photo: SGGP)
Within the framework of the working visit, the delegation visited Huu Nghi (Friendship) primary school in Pakse, Champasak province at noon on the same day. The school is the symbol for the heart and sentiment of overseas Vietnamese who donated to build the school in 2002.
The school is also the place of preserving Vietnamese culture, nurturing and developing the traditional friendship, special solidarity and comprehensive cooperation between Vietnam and Laos.
Mr. Nhan believed that from the school, young generations of Champasak and HCMC will uphold and promote the tight friendship between the two sides.