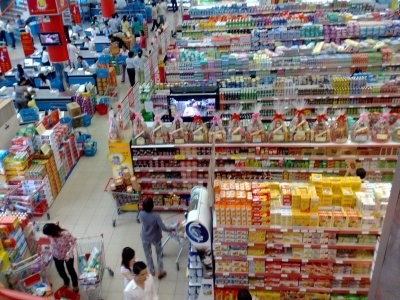 Goods at a CoopMart supermarket.

Ho Chi Minh City's stockpile of essential goods would be kept at a minimum of 30 percent of demand, according to a new program to stabilize prices under the city's Department of Industry and Trade. The department presented the plan to the city People's Committee this week.
Based on HCMC's consumption demand and population, the department plans to list nine food groups including: rice, sugar, cooking oil, meat, eggs, and vegetables as essential goods that need to be stockpiled to stabilize prices throughout the year.
Firms that participate in the program will receive interest-free loans from the city. However, their use of the loans will be monitored closely by city authorities.
Nguyen Thi Hong, deputy chairwoman of the HCMC People's Committee, ordered the department to review price stabilization programs on previous Tet (lunar New Year) holidays to determine which essential goods should be listed under the program; as well as the amount of goods stockpiled and consumption of products during particular periods.
She also instructed the departments of Finance, and Planning and Investment to cooperate with the Department of Industry and Trade to check local businesses operations and assess the stabilized prices registered by firms.