Speaking at the conference on state management intensification in construction order, Mr. Nguyen Thanh Phong asked communal and district people's committees to review and estimate construction situation in their localities, point out responsibilities of organizations and individuals for violations; and apply coercive measures to dismantle violating works according to decisions made by district people's committee chairmen, the inspector chief of the Construction Department and the chairman of the city People's Committee.
He required the Department of Justice to work with relevant agencies to propose solutions and sanctions to increase state management efficiency in construction order. Specifically they should not provide electricity and water services for violating works, not permit individuals and legal representatives of organizations subject to implementing of administrative violation punishment decisions to exit the country.
Mr. Phong asked the city Police Department to verify and impose criminal handling to persons or organizations breaking construction regulations for many times at serious level, especially those specializing in dividing agricultural land plots for sale or building illegal works in agricultural land.
Mr. Le Tran Kien, deputy director of the Construction Department reported that since 2017 till now, the city spotted 6,825 works breaking construction regulations. Of these, 4,252 were licensed or eligible for license granting.
Within the first six months this year, the Department of Construction's inspector chief issued 1,341 decisions to sanction administrative violations.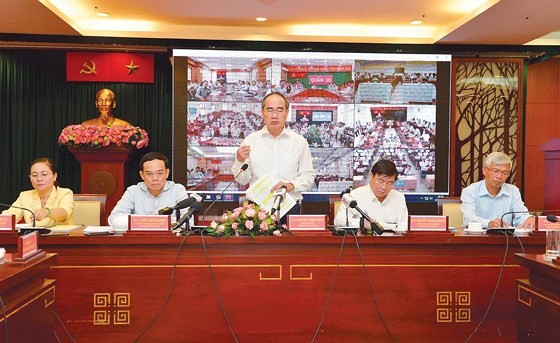 Secretary of the HCMC Party Committee Nguyen Thien Nhan makes a statement at the conference (Photo: SGGP)

Mr. Vo Van Quan, deputy head of the Internal Affairs Board under the HCMC Party Committee said that problems in management mechanism have resulted in bribery in construction management. Besides weaknesses, irresponsibility and lax management of local authorities, the public said that bribery by construction order management cadres is one of reasons for the rampant violations.
Worse, the bribery has been difficult to be spotted because both those who give and take bribes are profitable and do not want to expose it. In the meantime, authorized agencies have not taken timely actions to tackle the issue making it rampant. So far, over 300 cadres have been handled for violations in public service but only one construction inspector in Nha Be district was sentenced one year in prison for taking bribe, he added.