The Ho Chi Minh City Department of Transport has asked city authorities for approval to buy 1,680 new environment friendly buses to upgrade the city bus service during the period 2011-2013.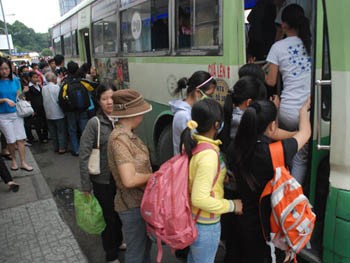 HCMC plans to replace old buses (Photo: nguoilaodong)
The new buses will meet high quality standards on release of   exhaust fumes and will run on compressed natural gas (CNG).
571 buses will be of 80 passenger capacity, 409 of 55 passenger capacity and 700 buses will be of 40 passenger capacity.
HCMC currently has a fleet of about 3,200 buses, most of which are old and release polluting exhaust fumes.
The new buses will have to comply with certain specifications of   height, seating capacity and road worthiness. They will also be required to meet Euro III standards on exhaust emissions and run on compressed natural gas (CNG).
Under the new project, companies and cooperatives that require buses for their business operations will receive preferential loans or payment subsidies from the state.
Earlier, the city government had decided to give subsidies at 5 percent interest per year for a seven year period to enterprises wishing to develop bus services during the period 2011-2013.