Ho Chi Minh City has set a target to obtain the Gross Regional Domestic Product (GRDP) growth rate of 8.4-8.7 percent in 2017, said chairman of the HCMC People's Committee Nguyen Thanh Phong this morning November 30 at the 8th conference of the executive board of the city Party Committee.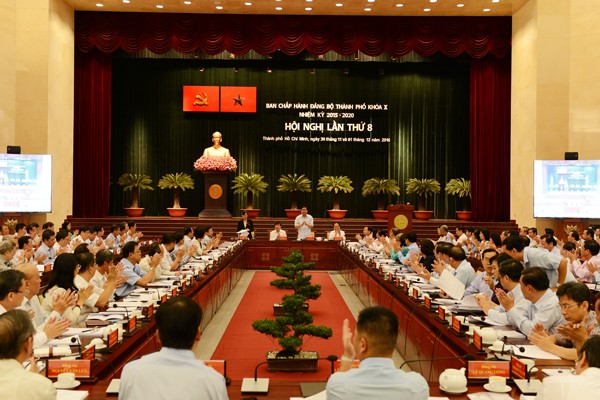 An overview of the 8th conference of the executive board of the HCMC Party Committee opened this morning November 30 (Photo: SGGP)
The chairman said that the target showed the city's high determination to implement the resolution of the 10th Party Committee congress.
GRDP reaches VND1,038 trillion (US$45.8 billion) this year, up 8.05 percent over the same period last year when it was 7.72 percent, he reported.
According to him, good policies will help promote the huge development potential of HCMC. The city will work to balance relations between growth and macroeconomic stabilization and social welfare.
Talking about other goals and measures in 2017, chairman Nguyen Thanh Phong said that the city would increase economic productivity, quality, efficiency and competitiveness.
In addition, it will focus on solving businesses' difficulties, improving investment and trading environment, encouraging startups and facilitating businesses' development; and intensify science-technology application to create a driving force for socioeconomic development.
Programs will be launched to improve growth quality, reduce labor intensive industries and develop hi-tech, high value added and environmentally friendly fields and products.

Stating at the conference, permanent deputy secretary of the city Party Committee Tat Thanh Cang said that 2016 was the first year of the city's implementation of the resolution of the 10th Party Committee Congress.
Many good results have been obtained showing the positive efforts of the city's Party Committee, government and citizens, he added.
Of these, GRDP growth rate will be higher than the same period last year and economic restructuring accorded with growth model reform.
Industrial production index went up 7.68 percent over the same period last year. Budget revenue reached VND303,816 billion (US$13.4 billion), accounting for 101.85 percent of estimates and up 10.8 percent over 2015.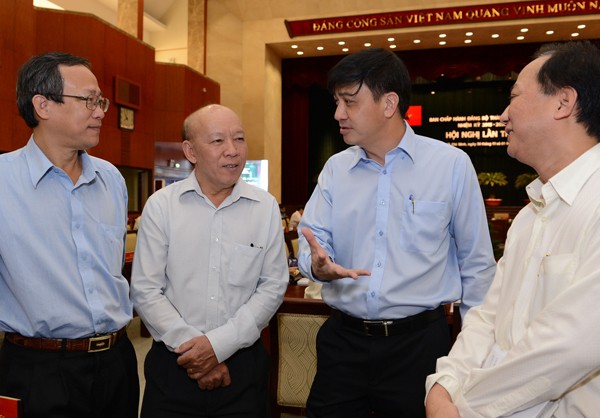 Delegates talks on the sideline of the conference (Photo: SGGP)
Social investment reached VND310.25 trillion ($13.69 billion), accounting for 30 percent of GRDP. A total of 111 works were opened for service with the total capital of VND19,815 billion ($874.24 million).
However he also reported some limitations. Administrative reform has yet to bring effectiveness as expected, discipline has been loose in some government agencies and some public servants have been unmindful in carrying out their duties.
Industrial wastewater treatment has yet to reach targets; traffic jam, flooding and environmental pollution have remained to be urgent problems.
Mr. Cang asked delegates at the conference to analyze problems, difficulties, challenges and propose solutions to remedy these limitations and better conduct the city's missions in 2017.
He also suggested them to give opinions about the efficiency of budget use, social resource mobilization for development investment in the context that the city must reduce the keeping rate of its annual budget revenue from 23 percent to 18 percent.