The Ho Chi Minh City People's Council has asked the People's Committee to concentrate on curbing inflation and ensuring the growth rate at 12 percent this year.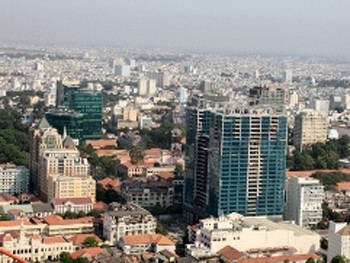 HCMC targets growth rate at 12 percent
In a recently issued resolution on socioeconomic targets for the second half of the year, the people's council asked the city administration to promote the price stabilization program, develop infrastructure and ensure power supply for production and businesses. Flood reducing measures, environment pollution and traffic congestion should also remain points of focus.
Construction should be stepped up in new urban areas, resettlement areas, dormitories and social housing programs, which will provide accommodation for civil servants, military servicemen and workers.
People living along canal embankments should be relocated as quickly as possible. Projects related to children, such as entertainment parks and educational facilities must also be speeded up.
In related news, the HCMC Department of Transport said that this year many major traffic projects in the city are running behind schedule due to capital shortage.
Works include construction of the road leading to the National University of Ho Chi Minh City in Thu Duc District, 10 bridges on Road 9 in Cu Chi District, the Binh Thai-Go Dua road, Rach Doi Bridge, Doi Bridge and the second belt line road.
Elsewhere, sluggish site clearance procedures in some districts has affected the progress of  the Hanoi Highway, Tan Son Nhat-Binh Loi outer ring road, Do Bridge, Go Dua Bridge, Road 10 and Road 10B.