These stations have been under construction above the ground on the left side of the highway in the direction from Saigon Bridge to Dong Nai Bridge.

Currently, the pedestrian bridge linking up to Suoi Tien station has been built. Those connecting with Thao Dien, An Phu, Rach Chiec, Binh Thai, Phuoc Long, Thu Duc and Saigon Hi-Tech Park stations are expected to start work this year and come into operation in 2020. The bridges' construction will comprise lean-tos and lightning system.

To promote the operation efficiency of the metro project, Mr. Bui Xuan Cuong proposed HCMC to arrange land fund along the route for construction of works linking up to stations such as approach roads and parking lots for metro commuters.
The biggest obstacle in building the pedestrian bridges is that some contiguous positions between the bridges and pavements are in front of local people's houses, forcing to adjust design to minimize negative influence to the life of residents, he added.
Besides building the bridges, the city will develop bus rapid transit system connecting with metro routes to facilitate metro commuters.
Director of HCMC Public Passenger Transport Management Center Tran Chi Trung said that when the first metro line comes into operation next year, 25 bus routes will be supplemented along the Hanoi Highway. Buses will move further in residential areas, the university village in Thu Duc district, industrial parks and hi-tech parks to pick up passengers.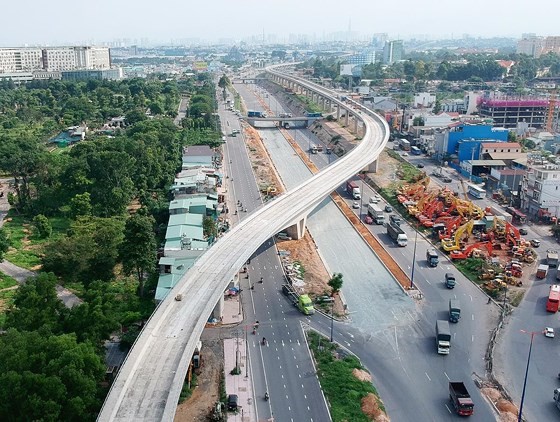 Ben Thanh-Suoi Tien metro line in District 9, HCMC (Photo: SGGP)

Bus routes will be organized in the form of fishbone to help passengers access to metro stations. The center will arrange a bus station every 500 meters along the highway. Buses will operate within the diameter of 4.2-17.8 kilometers from the center of each station.

The first metro line is 19.7 kilometer long comprising 14 stations with 11 above the ground along the Hanoi Highway and three underground in the center of the city namely Ba Son, Saigon Opera House and Ben Thanh.