Recruiting and employing skilled workers based on the Law on Cadres and Civil Servants has nearly come to a standstill as the Interior Ministry has yet to complete new policies on preferential treatment for well-educated individuals, an SGGP investigation has found.  
As of November 2009, the Ho Chi Minh City Hi-tech Agricultural Park in Cu Chi District employed three doctoral degree-holders, four workers with master's degrees, and 44 with bachelor's degrees.
The well-educated employees, however, have to travel 45 km outside of HCMC to Pham Van Coi Commune where the park is located, and are scarcely compensated financially.
The doctoral degree holders earn just VND2.2 million (US$116) per month; the master's degree holders earn VND1.9 million; and those with bachelor's degrees earn VND1.5 million per month. The skilled workers receive no other benefits or allowances.
In a report to the city People's Committee, the park's Management Board said if salary policies are not changed, they could not expect the low-paid experts to perform at a high level, nor successfully recruit new talent.
The Management Board has also invited a number of scientists and researchers to work for the park, but only a handful have accepted the offers.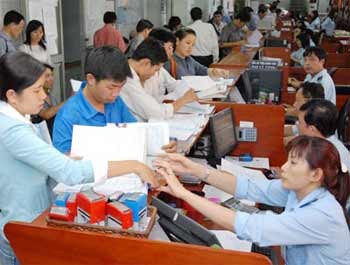 Customs staff conduct transactions at the HCMC Customs Sub-Department. An SGGP investigation has shown that unsatisfactory pay is among the largest obstacles to recruiting and employing skilled workers. (Photo: SGGP)
Meanwhile, at the Calculation Science and Technology Institute – an affiliate of HCMC Department of Science and Technology – overseas Vietnamese experts who work as directors, vice directors and heads of departments, are paid just VND17, 15 and 10 million per month respectively.
The low salaries for such high-ranking positions make recruitment very difficult, the institute says.
Similarly, the Department of Agricultural and Rural Development's Biological Technology Center, which was recently put into operation, requires 180-200 researchers with doctoral or master's degrees. But again, poor salary offers have proved to deter well-educated individuals from accepting positions, leaving the center still in need of researchers.
Meanwhile, many Vietnamese who have received overseas cadre training, are sought out by domestic headhunters.
"How can civil servants focus on their work when they cannot live on their income?" asked Truong Van Non, chairman of the HCMC's Go Vap District People's Committee.
"There were 149 people who passed the district's first civil servant exam and after three years of working for district agencies, 53 quit," he said.
Civil servant exams should be specialized
According to a recent World Bank report on Vietnam's development status, 16,000 civil servants resigned from their jobs in the 2003-2007 period, of which over 40 percent of the resignations came from workers in HCMC.
To improve the efficiency of civil servant recruitment, separate competitive exams for each position should be organized instead of a general one, Dang Van Khoa, a member of the city People's Committee, suggested.
"Such specialized exams will encourage candidates to improve their knowledge to be selected for key positions in State agencies. The city once had a similar plan for civil servant recruitment but that plan failed," he said.
"After all, administrative reform also means changing thinking in terms of recruitment and use of civil servants. In order to find talented individuals, we must improve our recruitment methods," Mr. Khoa said.
Appointing employees without holding open, specialized exams will fail to utilize true talent, he added.
Vo Thanh Phong, deputy director of the HCMC Department of Interior, said, "City People's Committee Chairman Le Hoang Quan has approved an action program for personnel organization by 2020, which includes re-arranging civil servants, improving recruitment methods, and preferential treatment for cadres with high professional skills."
The city is also investing in large-scale programs to seek and train skilled workers, including a program to train 300 Ph.D.s and master's students; and another to train a "gold generation" of young, talented individuals for the cultural, sports and tourism sector, said Mr. Phong.