Ho Chi Minh City has at present only 36 wards with households having an income of less than VND12 million per person per year, and is striving to raise this poverty line by the end of this year.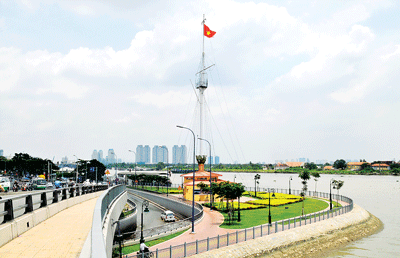 Ho hi Minh City visualizes being green, beautiful and slum free in the future (Photo: SGGP)
Eight of these wards are in Districts 3 and 6, five are in Districts 5 and 11, and six are in Binh Thanh District. The City is striving to raise the standards in 20 other wards as well, by the end of 2012.
 
HCMC currently has nearly 66,400 households with 301,000 people living below the poverty line, accounting for 3.64 percent of the total number of households in the City. Around 86,000 people have already raised their standards above the poverty line, since 2009.
 
For years, the City leaders along with district authorities have focused on measures to support poor households and carry out many social welfare policies to benefit welfare beneficiaries and raise standards of living.
 
The hunger eradication and poverty alleviation fund was established to provide more than VND200 billion (US$9,620,009) as starting capital for 33,500 poor households and 225 manufacturing units employing 2,200 laborers.
 
In addition, Vietnam Bank for Social Policies loans VND793 billion ($38,143,338) to 55,400 poor households at low interest rates. Around 110,000 people from households living near poverty line are given health insurance cards.
 
The City also keeps a check on these households whose economic condition is close to the poverty line. There are 84,000 households with incomes from VND12-16 million per head per year, accounting for 4.6 percent of total number of households in HCMC.
These households will be eligible for loans from the fund to establish businesses to increase their incomes so as to eradicate hunger and poverty.