Speaking at the 5th session of the 9th city People's Council opened from July 4 to July 6, Ms. Tam said that the above problems together with others relating urban management, land, corruption, crimes and social evils have been much reflected by city residents. Still they have been solved slowly.

The slow settlement of the issues has hindered the city's development and affected the life of residents, requiring the city to have radical solutions in the upcoming time especially in the second half this year, said chairwoman Tam.
She proposed the session to focus on discussing how to settle the above issues and solutions for sustainable growth, urging urban management operations to focus on restoring street order. Government agencies should make efforts to create breakthroughs in administrative reform and build e-government efficiently.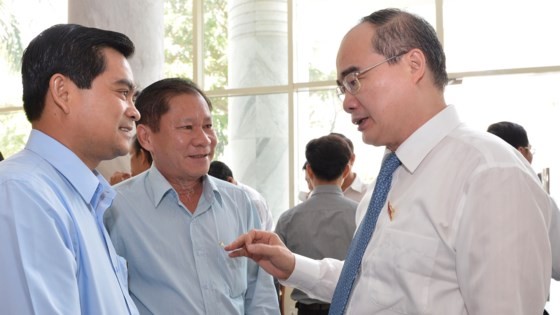 Secretary of the city Party's Committee Nguyen Thien Nhan (R) talks to delegates at the 5th session of the 9th People's Council on July 4 (Photo: SGGP)
She prompted the city People's Committee and relevant agencies to make clear problems that residents, voters, delegates and members of the Vietnam Fatherland Front in HCMC have mentioned.
At the session, deputy chairman of the city People's Committee Le Thanh Liem reported that gross regional domestic product (GRDP) growth reached 7.76 percent, higher than 7.47 percent during the same period last year.
Business environment and the competitiveness of the city's economics have been improved but yet to meet requirements, market development has met with many difficulties and growth has mainly based on the contribution of capital.
In the second half this year, the committee will continue performing solutions and missions to obtain socioeconomic development targets this year. For instance, GRDP growth rate will reach 8.4-8.7 percent, budget revenue will meet 100 percent of estimates and 50,000 new businesses will be established.
Other solutions will be carried out to improve Public Administration Performance Index (PAPI), Provincial Competitiveness Index (PCI) and Provincial Public Administration Reform Index (PAR Index).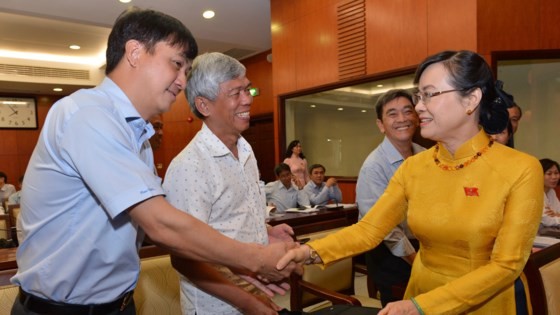 Chairwoman of the city People's Council Nguyen Thi Quyet Tam shakes hands with delegates at the session (Photo: SGGP)