Ho Chi Minh City should work with neighboring provinces to develop low cost housing and connect traffic system to meet housing demand of workers in the city and facilitate travel from their houses to working places.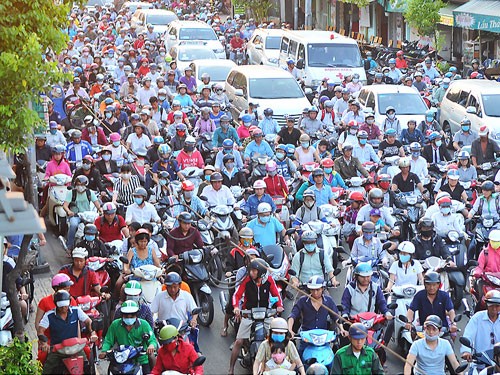 Traffic jam in Tran Hung Dao street, District 5, HCMC (Photo: SGGP)
The statement was made by Professor Dr. Nguyen Trong Hoa, former director of the city Department of Planning and Investment yesterday, saying that one of solutions for HCMC to reduce population density in the city to ease the overloaded traffic system.

Speaking at a forum on traffic jam by Sai Gon Giai Phong Newspaper yesterday, Mr. Hoa said that Binh Duong province has built social housing at the price of only VND100 million an apartment. Why HCMC did not connect with the province and other neighbors to develop this type of housing to relocate part of its 10 million citizens.

Workers in HCMC can live in Binh Duong. The distance between the province and the city is only 25 kilometers, much nearer than 50-60 kilometers between downtown HCMC and Cu Chi district. The origin of traffic jam is overloading which the city can solve if coordinating with other provinces, he commented.
HCMC plan and socioeconomic development plan for the southern key economic zone comprising HCMC is an important basis for the city to materialize the idea, he added.
The Department of Planning and Investment should advise city leaders to directly arrange citizens instead of assigning districts to do that as present. The city should not equate citizen number in two different areas to suit local geological conditions, he said.
The municipal authorities should give urban development priority to areas with good geological background, develop public transport system there, bravely remove citizens out from weak terrain portions and pay attention to working places when relocating them.
Traffic jam is not the private problem of the traffic industry or any other agency. It is a common problem of a city which has developed far faster than infrastructures, he commented.
Deputy head of the HCMC Institute for Development Studies Hoang Minh Tri says that HCMC has implemented many measures to reduce traffic jam with inconsiderable result because they have concentrated on the traffic field and been insufficient to tackle the issue.
Ongoing quick urbanization has overloaded traffic infrastructures while the funds for traffic development has been not enough and compensation for site clearance of traffic projects has been slow. Therefore, traffic jam has recently occurred not only during peak hours but also any time in many streets. Travel has been more difficult and slow, says deputy director of the Department of Transport Nguyen Van Tam.
Deputy director of the Department of Planning and Investment Nguyen Thanh Toan estimated that traffic jam has worsened in HCMC partly because of planning, incorrect urban development forecast and unmethodical urban plan implementation.
HCMC has carried out the Prime Minister's Decision on HCMC plan adjustment by 2025 under concentration and multipolarity development model with the center being inner the city within the diameter of 15 kilometers. In addition, there are four development directions east, west, south and north. Of these, the east and south will be main development directions.
A big problem has come from huge capital source from economic sectors in the real estate field but budget funds for technical infrastructure has been limited, causing infrastructures fail to catch up with real estate project development.
The department is now working with other agencies to review and estimate urban development plan implementation. So far it has reported to the HCMC Party Committee and People's Committee construction of buildings inner the city causing traffic congestion.
In the upcoming time, the agency should plan to propose the two committees to develop building projects synchronously with technical and traffic infrastructures, Mr. Toan said.
The city People's Committee has established an urban development team in eastern area covering Districts 2, 9 and Thu Duc. The team will review common development plan in these districts to ensure housing development synchronous with technical infrastructures.