Municipal officials in Ho Chi Minh City revealed that 421 people were killed in 495 traffic accidents in the first six months of this year and another 262 people were injured in road, waterway and rail accidents in the city.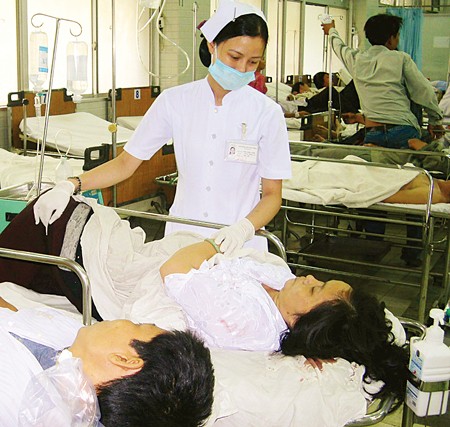 Traffic accident victims at Cho Ray Hospital, HCMC.(Photo:SGGP)
The officials met on Friday to review the traffic accident situation in the first six months of the year and announce a plan to implement ways to ensure better traffic safety during the coming six months of the year.
A representative of the HCMC Traffic Safety Committee noted that the number of traffic accidents and death tolls in the city had decreased between 2008 and 2010, but now again they were on the rise.
Since the beginning of this year, the city registered 194,366 new vehicles; 13,998 cars and 180,368 motorbikes.
Today the total numbers of vehicles in the city are 5.2 million.
The rise in accidents and fatalities was blamed on people violating traffic laws, the inadequate infrastructure and drunken driving.

Le Hoang Quan, Chairman of the City People's Committee said traffic safety is of utmost importance to both citizens and the government. He ordered the City Transport Department, the Police Department and transport associations and companies to find effective solutions to reduce the number of traffic accidents.

He also said that traffic laws will make it mandatory to take breath analyzer tests and speed detectors will be installed at strategic locations.

Those policing traffic accidents should be stricter in their approach with drivers who cause accidents.