Businesses taking part in a price stabilization scheme must ensure food hygiene, safety and quality, and lower prices by 10 percent in the lead-up to the 2010 Lunar New Year, Ho Chi Minh City Vice Chairwoman Nguyen Thi Hong has said.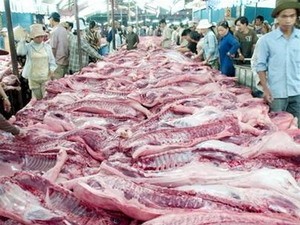 The price of pork is one of eight items to be stabilized in a HCMC program (Photo: VNA)
The chairwoman made the announcement October 16 at a meeting with businesses registered to take part in the market stabilization program ahead of the upcoming Lunar New Year (Tet holidays) in February next year.
The city government will provide capital to businesses in the program to help keep the price of goods stable in the days before and after Tet. Business should also stockpile 20-40 per cent more than usual, it added.
According to the city's Department of Industry and Trade, 12 companies have registered to take part in the program this year. Last year, nine took part.
The companies will open a total of around 1,508 food stalls before Tet, a threefold increase compared to the Lunar New Year 2009.
The sale of eight food items including rice, sugar, cooking oil, processing foods, eggs, cattle and poultry meat, and produce will be covered in the program. The city will also take measures to stabilize the price of vegetables for the first time.
The city intends to provide VND412 billion (US$23 million) for the program depending on the stability of the market at the time.