Ho Chi Minh City has yet to implement a power-cutting plan since the National Power System Moderation Center gave the city top priority for the allocation of electricity, in the hope of maintaining a stable power supply for the city's production activities, said the Ho Chi Minh City Power Corporation.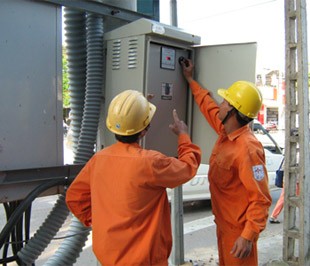 Electricians check a power panel in HCMC
The Corporation said it has temporarily halted supplying power to some areas to maintain, upgrade, and secure the stability of the city's power system.
 
Posted five days in advance, the power-cutting schedule is available on Sai Gon Giai Phong newspaper published on Thursday, Friday and Saturday and the Corp's website at www.hcmpc.com.vn, the Corp said.
 
The Corp's staff, either directly or through email or telephone, has informed larger customers, enterprises and organizations of the schedule.
 
In the case of sudden power failures caused by force majeure, the Corp has notified the public, on the Voice of HCMC's People, within 24 hours after the occurrence of the failures.
 
Many districts in Ho Chi Minh City have recently experienced blackouts caused by overloaded power lines and the breakdown of electrical equipment.
The Corp said the overload and breakdowns were the result of rapidly increasing power demand combined with low water levels at hydropower plant reservoirs.
To ensure safe and stable energy supplies, while minimizing negative impact on production and people's lives, the Corp has called upon organizations, enterprises and households to save power, use it properly, and turn off unnecessary power devices.
According to the Electricity of Vietnam Group (EVN), it is difficult to ensure a non-stop electricity supply in April, May and June due to the bad weather and the shortage of water in hydroelectric reservoirs. Meanwhile, the domestic demand for electricity is constantly increasing.
Day Duc Khoi, EVN's Deputy General Director, said that when the GDP growth rate reached 5.83 percent, the growth in electricity consumption should have raised only 12-13 percent.
However, the current growth in electricity consumption has doubled, reaching an alarming level of 22.6 percent. This demonstrates the presence of a wasteful usage of electricity.
According to the EVN's calculations, the electricity sector can supply 270 million kWh/day in April, 275 million kWh/day in May, and 285 million kWh/day in June. If the consumption demands continue to increase, then the sector cannot ensure an adequate supply of power.