The Steering Committee for Flood and Storm Prevention in Ho Chi Minh City has instructed all district authorities to examine and fortify the weakest and most vulnerable dyke sections to prepare for severe flooding after a high tide forecast in September.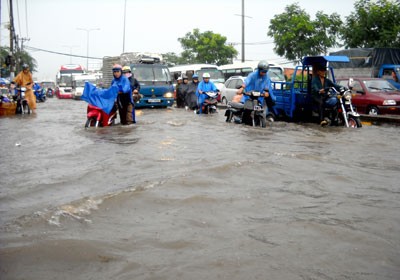 High tide floods a street in Thu Duc District of HCMC (File Photo: SGGP)
According to the Southern Regional Hydro Meteorological Center, high tide levels will reach 1.38-1.43m at Phu An Station on the Saigon River from September 16-18.
Besides, the city might even see more rainfall due to a low pressure zone and southwesterly winds blowing on the southern parts of the East Sea.
The Steering Committee for Flood and Storm Prevention has accordingly warned Districts 12, Thu Duc, Binh Thanh, Go Vap, Hoc Mon and Cu Chi to prepare adequate human resources and necessary equipment and also fortify the dyke system.
Authorities should do their best to prevent floodwaters from inundating residential areas and damaging farm crops.
District authorities should also maintain updates on the high tide situation from the media and provide residents with enough support to prevent and minimize damage from flooding.
Related departments and units have been asked to closely work with districts to operate pumping stations and sluice gates to prevent prolonged flooding which might be caused by high tide and heavy rain.
In related news, the National Hydro Meteorological Forecasting Center said that heavy rainfall has damaged several rice fields in the southern region. Ca Mau Province even suffered a cyclone which collapsed and blew roofs off several houses.
Rains will linger in southern provinces for the next few days. Mid and southern parts of the East Sea will be rough because of southwesterly winds.
Northern provinces will continue to have occasional sunshine and the weather will remain cool with average temperatures swinging from 27-30 degrees Celsius.