A Cambodian delegation, led by Phnom Penh Mayor Kep Chuk Tema, on Wednesday paid a working visit to Ho Chi Minh City where they were warmly welcomed by the Chairman of the HCMC People's Committee, Le Hoang Quan.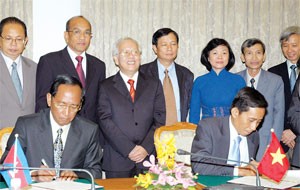 Phnom Penh office chief Noun Someth (sitting, L) and his HCMC counterpart Truong Van Lam (sitting,R) sign the agreement between the two city governments on Jan 10, with HCMC chairman Le Hoang Quan (3rd, L) and Phnom Penh mayor Kep Chuk Tema (2nd, L) witnessing.
Mr. Le Hoang Quan briefed the guests on HCMC's socio-economic progress and the results of cooperative efforts between the two cities.

For his part, Mr. Tema thanked the HCMC Sponsorial Association for Poor Patients for sending doctors and nurses to Cambodia to perform eye surgeries.
Mr. Quan also accepted an invitation from Mr. Tema to visit Phnom Penh in the near future.
Leaders from the two cities then witnessed the signing of an agreement, strengthening ties between the two city's health sectors and youth unions.
More specifically, the deal states the two cities will cooperate to build a new hospital and clinic in Phnom Penh.