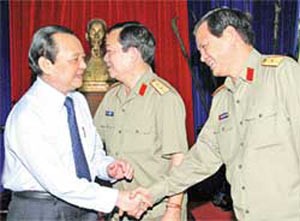 Mr. Le Thanh Hai (L) shakes hand with leaders of the Military Zone No.7
A delegation of Ho Chi Minh City's Party Committee leaders paid courtesy visits to the High Command of Military Zone No. 7 and the High Command of the Navy at their headquarters on the occasion of the approaching Lunar New Year festival (Tet).
Speaking at the meetings, Ho Chi Minh City's Party Committee Chief, Le Thanh Hai, gave great praise to the Military officers for their contribution to the city's social development, stressing how well they have cooperated with the city's armed forces to successfully maintain the political security and social order in Ho Chi Minh.
The City's Party Committee leader also wished them good health, happiness and prosperity for the New Year.
On the occasion of the coming holidays, many other leaders of Ho Chi Minh City have also visited and given gifts to many of the city's important organizations such as the Voluntary Youth Force, the vocational training and job centers, hospitals and residential areas.