Associate professor Dr. Do Van Dung, principle of the university, said that after piloting autonomy mechanism in 2017, the university has renewed curriculum, increased investment in material infrastructure, improved the quality of training and scientific research, boosted startup and connected with businesses.

The university has obtained lot of achievements in innovative and robot contests and gained lot of project ordering from businesses. Sixty percent of its students have got jobs before graduation.
The school has created a mechanism for lecturers to promote their creative ability and attracted project ordering from businesses for teachers and students to do and study together.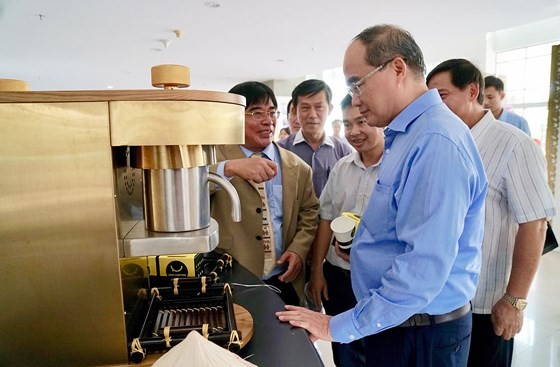 Mr. Nguyen Thien Nhan sees an automatic coffee machine during a visit to HCMC University of Technology and Education on November 15 (Photo: SGGP)
The university has not laid too much emphasis on finance but on image and brand name promotion for the school and students.
Talking to the school board, Mr. Nguyen Thien Nhan said that results obtained in training, studying and business connectivity are models which should be broadened.
He encouraged the university to create mechanisms and conditions to nurture and develop new ideas. The city is willing to give the university financial assistance to study and develop application products if it is able to do so.