The statement was made by Politburo member and secretary of HCMC Party Committee Nguyen Thien Nhan at the 22th conference of the executive board of HCMC Party Committee on November 29.

According to Mr. Nhan, disbursement progress has been too slow at many agencies. In response to residents' proposal to repair roads and tackle the flooding, relevant agencies answered shortage of capital. That is just part of the issue as many agencies have not used up their arranged public investment funds.
Specifically, disbursement reaches only 70 percent at the Management Board on Hi-Tech Agriculture and 59 percent at the Department of Agriculture and Rural Development.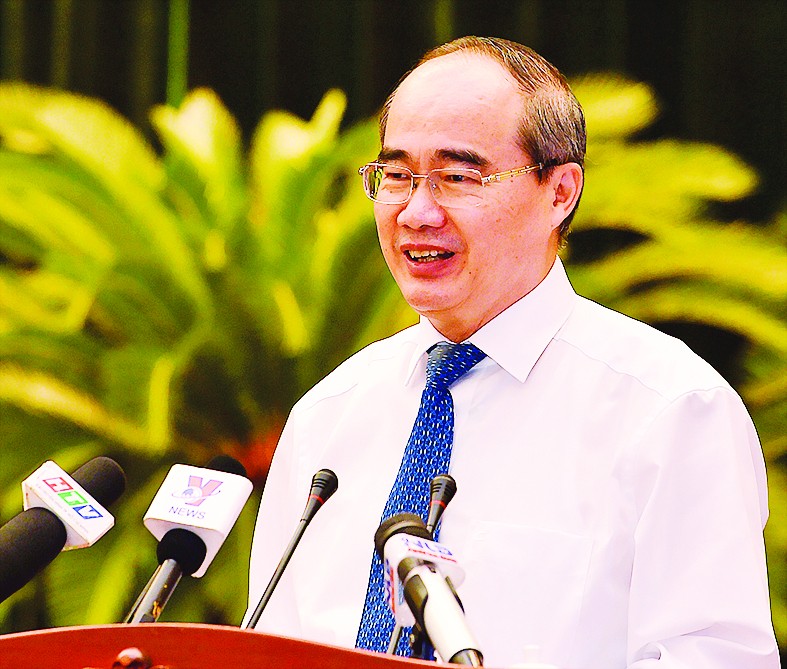 HCMC party chief Nguyen Thien Nhan (Photo: SGGP)
It is only 58 percent and 53 percent at HCMC Transport Department and Steering Center on Urban Flood Control Program who are responsible for handling traffic jam and floods.
In urban and infrastructure field, disbursement is only 43 percent at Ho Chi Minh City Infrastructure Investment JSC (CII), 42 percent at Saigon Traffic Construction Joint Stock Company, 30 percent at the Department of Natural Resources and Environment, 22 percent at the Department of Planning and Investment, 3.5 percent at Saigon Water Corporation and 1.1 percent at the Department of Industry and Trade.
District 3 has disbursed 96 percent of arranged funds while Districts 4, Thu Duc, Phu Nhuan and Cu Chi have disbursed over 80 percent. District 1, Binh Thanh and Tan Binh are among those with low disbursement rate.
Explaining the low disbursement at the Department of Transport, director Bui Xuan Cuong said that time consuming site clearance has affected projects' progress. Work has been unable to start on some projects, meantime some have started with asynchronous construction because some items have got stuck with site clearance.
Currently, 58 projects are running behind schedule because of late site clearance resulting in the congestion of VND940 billion. If difficulties in site clearance are solved, disbursement might reach 80 percent.
Meantime, deputy director of HCMC Steering Center on Urban Flood Control Program Nguyen Hoang Anh Dung said that current regulations require project investors to have capital source before starting procedures on auction, design and construction.
After funds are arranged, it takes an extra of 3-4 months for preparation works.
That means relevant sides have to do procedures in the beginning months of the year so disbursement is normally slow in during this phase. It will be faster in the third or fourth quarter when they just focus on construction.
The disbursement of anti-flooding project is expected to reach 90 percent at the end of this year, said Mr. Dung.