Bus users in Ho Chi Minh City account for just 5-6 percent of the population, yet the city subsidizes public transport more and more each year, city officials have said, adding that the problem must soon be addressed.
Officials expressed their concern April 4 during a HCMC Television program titled "Speak and Act." The episode was focused on public transport in the city and what can be done to encourage more people to use it.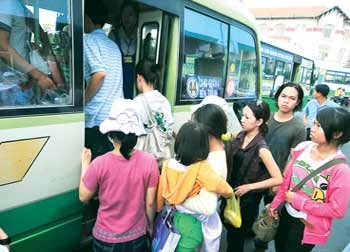 As the number of HCMC residents using public transit is very low, city officials discussed measures on April 4 to improve usage (Photo: SGGP)
Truong Trong Nghia, a deputy of the city People's Council, asked, "What is behind the problem? Is it poor infrastructure, poor quality of buses, or ineffective bus operations?"

Mr. Nghia called on agencies to seek effective solutions to the situation.
Duong Hong Thanh, deputy director of the city Transport Department, said, "The city now has about 3,100 buses, of which 1,700-1,800 will be replaced by new, better-sized ones that are environment-friendly and use clean energy, by 2015. There are 26 agencies involved in bus management and the number will be cut down to 7-10 by 2015.
"In the city's central area, each bus stop is located 300-400 meters apart, but according to a recent survey, residents want the distance decreased to just 200 meters apart," Mr. Thanh said.
Le Hai Phong, deputy director of the city Public Passenger Transport Management and Operation Center, said the center has placed an order with the HCMC University of Technology for re-organization of the city's bus operations.
The biggest problem is that the city faces a serious shortage of bus stops and terminals, which are essential for an effective transit network, he said.
Many bus stops have also been set up randomly along streets, especially outside of recreation centers.
Pham Phuong Thao, chairperson of the HCMC People's Council, agreed, adding: "Has the bus network been arranged properly and efficiently? What has been done by the Department of Planning and Architecture in building bus terminals?"
She pointed out that the city had earlier earmarked 140 hectares of land for bus terminals, but now that area has been reduced to just 28 hectares.
Hoang Tung, head of the Technical Infrastructure Management Office under the Department of Planning and Architecture, said, "The building of terminals in each district is facing many difficulties, since it will be done only when there is a mutual agreement between the department, district authorities, and the Department of Natural Resources and Environment."
A passenger uses an automatic ticket-selling machine being trialed on a city bus (Photo: SGGP)
To accelerate the work, it is necessary to have an overarching directive from the city People's Committee, he added.
Huynh Cong Hung, deputy head of the Economic and Budgetary Committee of the city People's Council, asked, "Why are State-owned companies allowed to rent land for terminals, but transport cooperatives are not?"

Le Trung Tin, head of the Industrial Management Office under the Transport Department, said the department recently proposed that city authorities allow such cooperatives to rent land, and the department has received approval.
Three solutions proposed
To improve public transit in HCMC, Ms. Thao suggested three solutions.
First, better policies are needed to call for more investment in building bus stops and terminals, and manufacturing high-quality buses; while the city should continue subsidizing public transport.
Second, the bus network must be re-organized to make it more convenient for users, management over bus operations should be improved, and an automatic ticket-selling system should be applied broadly.
Lastly, bus drivers, attendants, and ticket conductors need better training to offer the best possible service to users.
Ms. Thao also asked the Transport Department to draft a project for public transit re-organization and submit it to the People's Committee before being transferred to the People's Council for consideration and resolution.