Ho Chi Minh City is not planning on building any more markets within the inner limits of the city, according to the market and supermarket plan for the phase 2011-2015.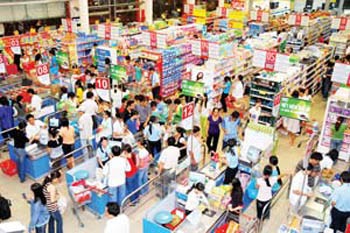 People shopping at a supermarket in HCMC (Photo: SGGP)
New markets will only be permitted in the outskirts of the city, whereas existing markets within the city will be upgraded or repaired.
HCMC will however offer incentives to businesses to develop more supermarkets, shopping malls and general stores within the inner limits of the city.
By 2015, the number of supermarkets and trading centers will increase to 204 and 193 respectively but the markets will reduce to 233.
According to the Department of Industry and Trade, by June this year, the city had 247 markets, 125 supermarkets, 35 trading centers and 251 general stores.