Establishing universities, drawing up curricula, and admitting infants to preschools topped the agenda at a seminar on amendments to the Education Law held by Ho Chi Minh City's National Assembly members October 12.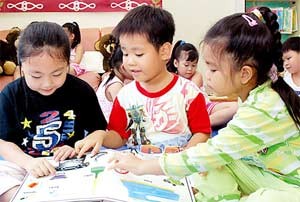 Children at a preschool in District 1, Ho Chi Minh City (Photo: SGGP)
Dr Dinh Ngoc Thach of the HCMC University of Social Sciences and Humanities said many universities have been set up but their operations and quality do not meet required standards.
So the requirements with regard to facilities and teachers' qualifications need to be spelled out, he said.
"For instance, how should we understand a regulation that says a university must 'have a complement of educational administrators and teachers' as stipulated in Article 50, which governs the establishment of a university?" he said.
The law, even with its proposed amendments, is not transparent or adequate and so we should improve it, he said.
The process of establishing a university, as set out in Article 50, should be reconsidered, said Dr. Hoang Van Can, deputy head of the HCMC Teachers Training University.
He said that some universities have been set up but do not meet admission and teaching standards.
Other delegates said licenses to new universities should be issued in a "more responsible manner" to ensure quality.
Delegates also said the curricula provided by the ministry are drawn up in a "mechanical and inflexible" way and fail to provide students with advanced and practical knowledge.
Besides, the fact that it continues to perform this task means the intellectual ability and initiatives of many scientists and educationists cannot be tapped, they said.
Discussing the admission of three-month-old babies to public preschools as proposed by amendments to the law, many delegates said it sounds good but is hard to implement.  
Nguyen Thi Kim Dung, head of the 19 May Preschool, said the demand for admission to preschools has shot up, leading to an overload at most of them.
Therefore, it is impossible for them to admit three-month-old babies now despite the high demand, she said.
Currently, preschools admit only children aged at least 16 months, Dang Thi Nguyet Anh, deputy head of the District 5 Education Section, said. 
Regarding compulsory education for five-year-old children as required in the amendments, most delegates said that would also be hard to carry out.
 
There are not enough schools or teachers for it, said Truong Thi Kim Chon, deputy head of the Go Vap District Education Section.