On this event, the city Party Chief congratulated great achievements of the university in previous time since it ranked the first among top universities in Indonesia and the 57th in Asia.
Besides that, the Vietnamese leader desired to listen to experiences on building an educational program and a vision of becoming regional and international higher education and research institutions, policies to encourage students and creative start-up activities.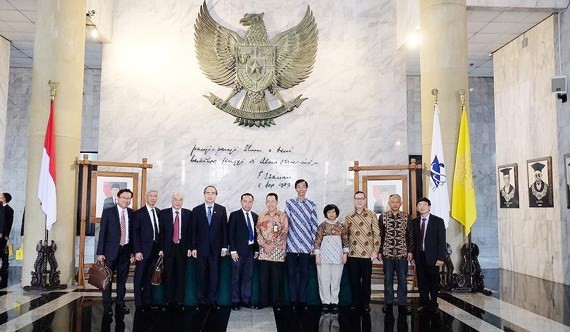 The high-ranking delegation of Ho Chi Minh City poses a photo at the University of Indonesia (Photo:KIEU PHONG)
Both Vietnam and Ho Chi Minh City always gives priorities in the international education and training cooperation, especially university and postgraduate education.
However, Vietnam's education is facing challenges, especially not promoting the creativity of teachers, managers and students. Therefore, the universities are very interested in internationalized promotion and integration through affiliate programs to take full advantage of technology, initiatives as well as high quality teachers.
Secretary Nguyen Thien Nhan affirmed that Ho Chi Minh City is home of the country's best universities, of which, Vietnam National University - Ho Chi Minh City plays a key role in the city's higher education system, being multidisciplinary training system with affiliated member universities.
Therefore, Mr. Nguyen Thien Nhan suggested more and more cooperation between the University of Indonesia and Vietnam National University -Ho Chi Minh City.
He believed that this educational cooperation will be increasingly developed, contributing to training high quality human resources for Ho Chi Minh City.
The University of Indonesia has begun self-control finance since 2000 (currently the state finances 25 percent of school activities). In recent time, the educational cooperation between the two nations achieved good results.
Last year, three National University of Vietnam including the University of Economics, Hanoi University of Science and Technology and Foreign Trade University of Hanoi co-signed a cooperation agreement with PPM School of Management.
In January, 2019, the Ho Chi Minh City University of Architecture signed a memorandum of understanding with Riau Island Architects Institute.
On the same day, the city's delegation visited and talked with the staff of Vietnamese Embassy in Indonesia and delegates of Permanent Representatives of Vietnam in ASEAN.
They offered incense to commemorate President Ho Chi Minh in the Embassy.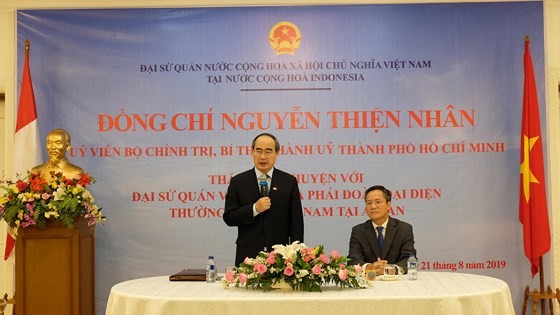 The city Party Committee Secretary visits the Vietnamese Embassy in Indonesia. (Photo: KIEU PHONG)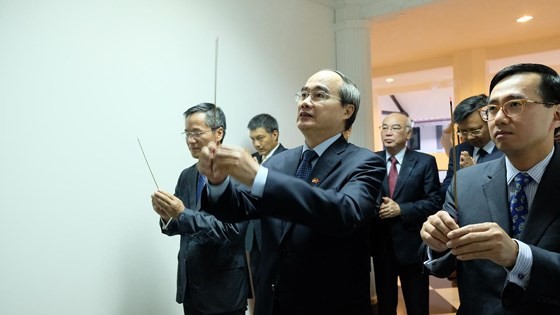 Secretary Nguyen Thien Nhan burns incense to commemorate late President Ho Chi Minh in the Vietnamese Embassy in Indonesia. (Photo: KIEU PHONG)