On behalf of the city's delegation, Mr. Phan Nguyen Nhu Khue appreciated the contribution of the embassy staff in promoting Vietnam-Germany cooperative relations.
HCMC is the country's leading city in cooperation development with Germany. Besides that, the city was chosen as the location for the German House Project, being a symbol of Vietnam - Germany friendship after the house was officially put into operation in March, 2019.
The city law maker also informed Vietnamese Ambassador to Germany Nguyen Minh Vu about good results at the working sessions between the HCMC delegation and the Frankfurt legislature, the Parliament of the State of Hessen in Germany; thereby, the city delegation received valuable shares about experiences of building and promulgating laws, policies of the National Assembly, relationship between parliamentarians and voters, implementation of local policies.
Speaking at the meeting, Ambassador Nguyen Minh Vu appreciated and welcomed the activities of the City delegation law makers in Germany.
Regarding the Vietnam-Germany relationship, he reported that the two nations have restored the strategic partnerships in almost all fields, including the activities of parliament.
Currently, Germany is the leading trade partner of Vietnam in Europe; and vice versa Vietnam is the ASEAN biggest exporter to Germany.
According to him, the relationship between Vietnam and Germany has been built and enhanced for a long time. Currently, there have been 170,000 Vietnamese people living, studying and working in the Germany; and additional 100,000 others have ever lived, studied and worked in Germany before.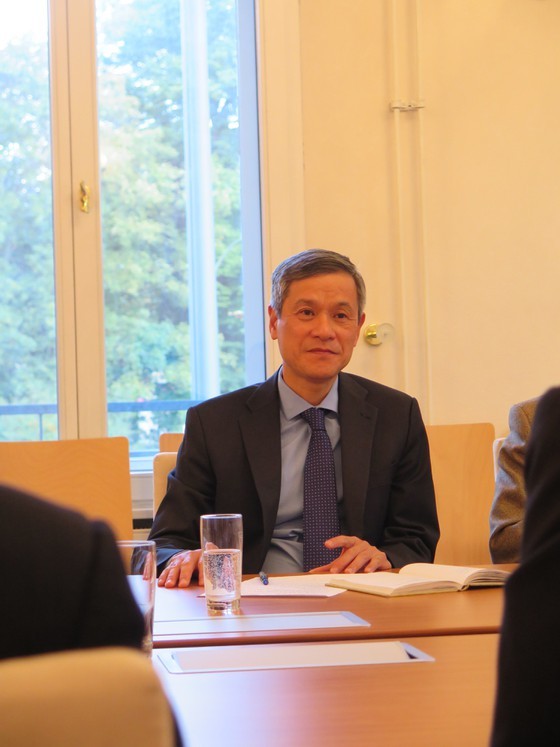 Vietnamese Ambassador to Germany Nguyen Minh Vu

Ho Chi Minh City is the economic hub of Vietnam and the leading cooperative destination with around 300 German enterprises.
After the recent working trip of Secretary of the Municipal Party Committee Nguyen Thien Nhan, the city businesses had an opportunity to learn as well as carry out ideas of the city leaders with a goal of building HCMC as smart and creative city, added the Vietnamese ambassador.
The ambassador believed that the relations between Vietnam and Germany, between HCMC and Germany's localities would be strengthened further in the upcoming time.
On this occasion, he also suggested that Ho Chi Minh City would pay attention and assistances to establishing an education center in HCMC as soon as possible to train skilled workers.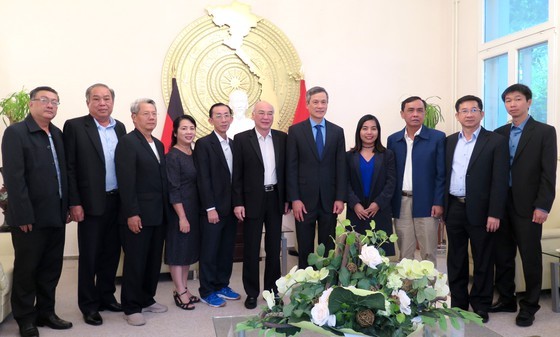 Delegation of National Assembly in Ho Chi Minh City posed for a photo at Vietnam Embassy in Germany