Ho Chi Minh City's industrial output has showed signs of recovery in recent months, with the total output value in Jan-July amounting to VND237.5 trillion (US$13.2 billion), up 4.8 percent from a year earlier, the city Department of Industry and Trade reported.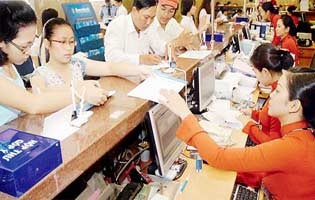 Customers at a commercial bank in HCMC. Loans given under the central and city stimulus packages have helped HCMC's industrial sector recover, with Jan-July output increasing by 4.8 percent from a year earlier. (Photo: SGGP)
Of the city's 27 industries, 20 registered a growth compared with the same period last year, of which several industries recording high growths, such as office equipment (29.7 percent), chemicals (23.3 percent), processed wood (16.2 percent), construction materials (15.5 percent), medical equipment (12.1 percent), and food and beverage (10.9 percent). 
While the State-owned sector saw a decline of 3.2 percent in the past seven months, the private sector posted a growth of 7.3 percent and the foreign-invested sector, 7 percent.
Such encouraging performance was attributed to the effective economic stimulus packages adopted by the central government and the city's authorities, the vice director of the department, Quach To Dung, said.
As of July 15, the city had disbursed more than VND76.1 trillion ($4.23 billion) from the Government's incentive loan package for businesses' qualified projects.
The city also stepped up the disbursement of its own loan package of VND5 trillion ($278 million) for its projects, particularly in construction, expansion of businesses' operation, and technical and technological renovation.
Since March 8, when the stimulus plans was carried out, twenty-eight projects have been granted subsidized loans totaling VND3.8 trillion, with the amount of interest subsidy recorded at around 1.6 trillion, Ms. Dung said.
The city is continuing facilitating local manufacturers' access to incentive loans being offered by the central and local government to help them invest in renovating machinery, equipment and technology, improving product quality, and enhancing competition edge, she said.
It would also help businesses expand their export markets, maintaining traditional markets such as the US, Japan and Russia, and seeking more outlets in Europe, Africa and the Middle East, she said.
In the rest of this year, the department would coordinate with banks, districts' authorities and business associations in removing any obstacles, if any, to production and trade, she added.