Ho Chi Minh City authorities yesterday held a ceremony to honor 136 citizens and groups that have performed good deed quietly.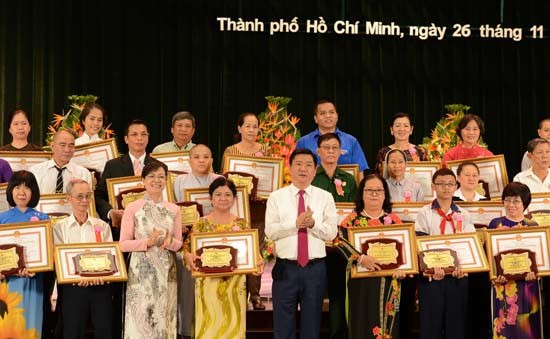 HCMC Party Chief Dinh La Thang ( center, red tie) and those who are honored by their good deed (Photo: SGGP)
These good people are retirees, sanitation workers, laborers, volunteers who are enthusiastic in humanitarian and social deeds; soldiers who are ready to protect the city's security order; devoted teachers or medical workers who take care of needy students and patients and entrepreneurs who actively contribute in social works for the community's benefit.

They are good examples not only for HCMC inhabitants but also for people in the country. They performed good deeds in quiet way yet all deeds are done by their hearts. Most of all, their deeds originated from voluntary spirit; accordingly, they do not need to be honored or known by others; they simply want to help disadvantaged people to have better lives.

Speaking at the ceremony, Chairman of the city People's Committee Nguyen Thanh Phong stressed that when Uncle Ho was alive, he valued commending exemplary models "Good people, good deed" who have had great contribution to the society.

The Vietnam Fatherland Front Committee in HCMC, labor unions in districts, the media frequently discover and laud individuals and groups that have greatly contributed to the community. The quantity of exemplary models this year doubled in 2014. Some of them refused to show themselves in public as they said they did not perform these deed for their own interest.

City leaders expected 138 people to be seeds for other good deeds and to be examples to follow.
Participated in the ceremony were HCMC Party Chief Dinh La Thang, Deputy State President Dang Thi Ngoc Thinh, People's Committee Chairman Nguyen Thanh Phong, Standing Deputy Secretary of the Party Committee of Ho Chi Minh City Tat Thanh Cang and HCMC Deputy Party Chief Vo Thi Dung.