Anti-corruption campaigns in Ho Chi Minh City have not proved effective as the crime has become complicated and difficult to discover, the city chairman Le Hoang Quan said at a meeting Friday.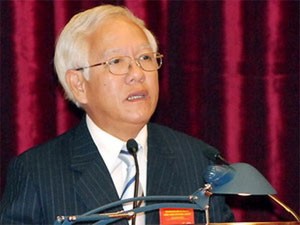 Chairman Le Hoang Quan of the Ho Chi Minh City People's Committee
Many corruption cases were committed between 2005 and 2009 but only discovered and imposed penalties in 2010, Quan said.
The chairman noted several recent forgery cases in which people faked documents of state-owned agencies to cheat money from the agencies.
He asked leaders of state-agencies to enhance office education, making their staff highly aware of their responsibility at work.
Mr. Quan ordered the city offices to keep good observation at units which have been assigned to implement programs on inflation control, social welfares, and price stabilization to prevent any corruption acts that can lead to public disagreement.
Reports at the meeting showed that concerned agencies have cooperated better during the first six months this year to discover corruption crimes and bring them to court.
The number of discovered corruption cases has been reduced over the same period last year and several cases that caught public interest have received strict penalties, the report said.
All state firms and agencies, as well as their staff, have reported their assets and income of 2010.
The city government has also switched the positions of 859 officials at 53 state agencies following a government resolution on corruption prevention.