At a conference hosted by the committee, Mr. Phong said that the National Assembly has approved specific mechanisms for HCMC development. That is an important motive power for the city to develop more strongly in the next years.

In 2018, the city will carry out the Government's motto of discipline, integrity, action, creativity and efficiency; ensure advantageous investment environment and encourage innovation; focus on some major infrastructure projects in association with urban planning, traffic jam and accident reduction; reduce flooding and environmental pollution; take the initiative in adapting to climate change; ensure welfare and take care of residents' lives.
HCMC will bolster administrative reform and speed up building of Smart City and e-government and uphold political stability and social safety.
At the conference, standing deputy chairman of HCMC People's Committee Le Thanh Liem said that HCMC sets 20 important targets including Gross Regional Domestic Product (GRDP) growth of 8.3-8.5 percent this year.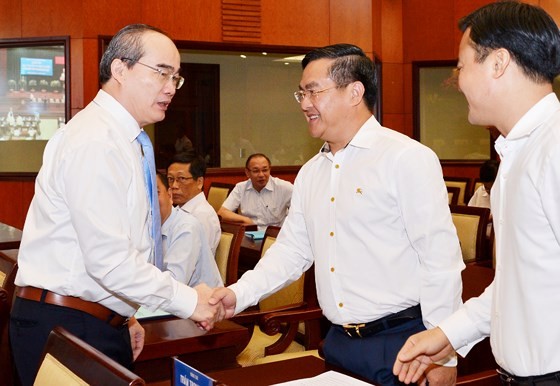 Secretary of HCMC Party Committee Nguyen Thien Nhan (L) talks to delegate at the conference on January 1 (Photo: SGGP)
"2018 is the starting year to implement the resolution of the 10th congress of HCMC Party Committee and Conclusion 21 by the Politburo and the NA resolution on piloting specific mechanisms for HCMC development," said Mr. Liem.
HCMC will review plans and give priority to arranging land fund to develop Industry 4.0, support industry, financial center project and innovative startup activities.
In urban planning, the city will develop urban areas to create motivation for suburban districts to move on, complete ring roads as well as radial routes and develop traffic infrastructure to better connect with southern key economic zone, speed up urban railway projects and expansion of Tan Son Nhat Airport and Cat Lai seaport.
The apparatus of the political system will be rearranged to operate more efficiently. Moreover the municipal administration will cut public work force, improve cadres and officials quality and tackle responsibility diffusion.
In 2017, HCMC got outstanding results in many fields covering economics, culture, society, national defense, security and foreign relations. Still the city still faced many difficulties and problems.
The city failed to obtain two targets on GRDP and new business establishment. In addition, traffic jam, flooding, environmental pollution and food safety problem have been complicated affecting residents' lives.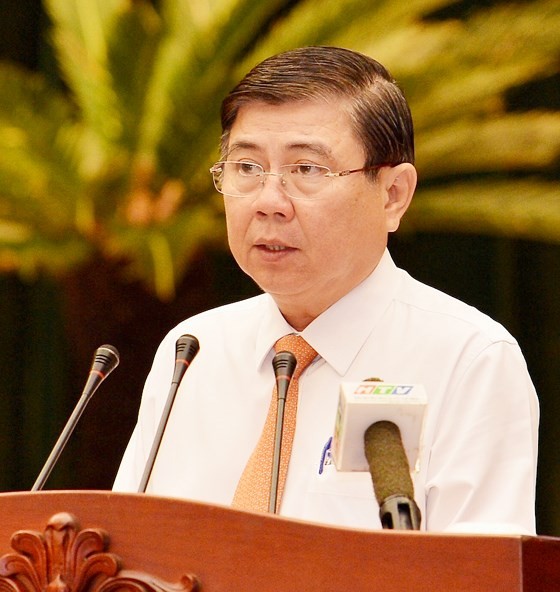 Chairman of HCMC People's Committee Nguyen Thanh Phong states at the conference (Photo: SGGP)