Repeating the committee chairman's point of view that HCMC is not the living soil of cheating businesses, Mr. Tuyen said that the city will strictly handle and even prosecute firms for breaking food safety regulations to protect residents' health.
Understanding that goods prices usually increase in advance of the Tet holiday therefore he still hoped businesses not to take advantage of that to rocket prices in other not to affect the poor.
At the program, Ms. Tran Thi Ngoc Yen working at Linh Trung export processing zone in Thu Duc said that many workers are unaffordable for returning their hometowns to celebrate the Tet holiday.
Therefore, they expect the municipal authorities to assist them to buy goods with reasonable price and ensured quality through fairs and selling spots at the processing zone.
Mr. Nguyen Ngoc Thanh, member of HCMC Farmers Association, said that safe vegetables have been well received by consumers. However production cost according VietGap quality standards is very high while selling price has been low. That has raised difficulties for farmers.
In addition they have concerned about low quality fertilizers which have affected cultivation efficiency, so they hope authorized agencies to better control the issue.
Statistics show that food such as pork, poultry products, vegetables and fruits in HCMC can meet 20-25 percent of local demand. The remaining volume must be imported from other localities nationwdie.
Leaders of Agriculture and Rural Development Department have committed to implementing measures to control goods brought into the city from other provinces.
Mr. Huynh Tan Phat, deputy head of Veterinary and Animal Health Department, said that besides four fixed inspection stations, the agency has set up three inter agency teams to control the quality of pork and poultry products from other provinces at city entrance gateways.
The department has also mobilized owners of slaughter houses not to inject pigs with sedative.
Ms. Pham Khanh Phong Lan, head of HCMC Food Safety Committee, said that sedative injection into pigs must be handled strictly and proposed HCMC People's Committee to require all slaughter houses to install cameras and supplement supervision officials to support veterinary force.
Deputy director of HCMC Department of Industry and Trade Nguyen Huynh Trang said that confectionary demand is forecast to approximate 18,000 tons in the coming Tet holiday.
Businesses said that they would provide confectionary products with sufficient volume, more stable price and good looking package than in 2016, 42 million liters of beer and 47 million liters of beverage with price not increasing over normal.
Total goods value prepared for the Tet holiday is estimated to reach VND17.6 trillion (US$775 million) including VND7 trillion stabilized items.
The city will organize 10,600 selling spots of subsidized commodities including 1,000 spots in outskirt, industrial and export processing zones.
In two months ahead of the Tet, there will be 420 mobile vending carts supplying subsidized goods for residents.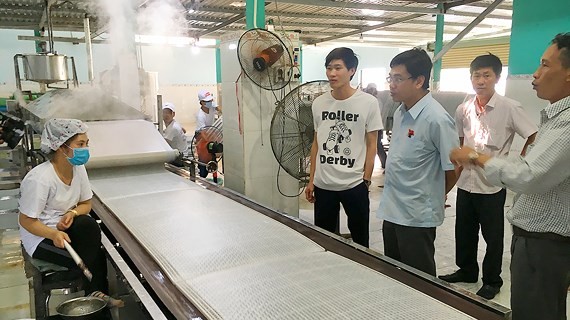 Officials inspect food safety at Thanh Danh rice paper production establishment in HCMC (Photo: SGGP)