A great deal of land is being illegally used while a large number of projects have come to a standstill due to a lack of land in Ho Chi Minh City, according to a recently survey by Sai Gon Giai Phong.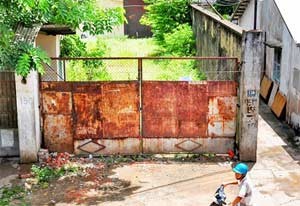 A 1,300-square-meter premise at 190 Nguyen Trong Tuyen, Ward 8, Phu Nhuan District, has been unused for many years. (Photo: SGGP)
The general director of Vietnam Southern Food Corporation, Truong Thanh Phong, provided shocking information that his corporation had lost the right to use over 26 houses and land plots.
 
Of the properties, eight houses and land lots was granted to the corporation's staff members for use, but they managed to obtain ownership over them.
In 1990 the HCM City Food Company provided Ms. T. a house in Binh Thanh District to use as her home. Buy she later worked with relevant agencies to obtain the ownership over the house without consulting the company.
On April 18, 2002, she was granted a deed of house ownership and land use rights.
 
Some similar cases have happened in District 1 and Tan Binh District, Mr. Phong said.
Meanwhile, the illegal distribution of State-owned land has occurred in some plots managed by a number of affiliates of Electricity of Vietnam Group (EVN).
These plots were provided to employees in District 1 and smilarly, 2,000 square meters in District 8 have become home to eight families.
Other cases of illegal use of State-owned properties were seen by the Book Distribution Company for Zone II and the Southern Commercial Agricultural Service Center.
In many cases, when the lease was up, the tenants did not leave the premises but managed to obtain ownership over the property.
The HCM City Warehousing Company was forced to bring some cases to court.
Meanwhile, there have been many cases in which the tenants did not pay the rent but continued using the premises after the lease was up.  
The HCM City Housing Management and Trade Company took legal action against the branch of Hai Phong Import and Export Company, which did not pay rent for the use of a house in District 5.
The case was referred to the District 5 People's Court in October 2006, but it remains unresolved.
The city's authorities have ordered relevant agencies to get back State-owned properties used illegally or improperly.
However, such recovery is not easy to do, said Dao Anh Kiet, the head of city's Department for Natural Resources and Environment.
"The Land Law stipulates the local government has the right to revoke land that is used wrongly. But in fact, the city authorities are allowed to decide only on cases in which the renters want to change their purpose of use of properties. Meanwhile, the right to revoke land belongs to the Finance Ministry," he said.
Under the prevailing regulations, the taking back of land must be based on investigation by inspection agencies, he added.
On the other hand, interference by central agencies in cases of land recovery also makes the situation more complicated, he said.
Regarding many plots of land that were rented but later were not used, he explained that one of the reasons might be the current low rent that fails to put pressure on renters to use the land.