After seven gloomy years, the real estate market in Ho Chi Minh City saw a good recovery in 2015 with the number of apartment offered for sale and traded hitting the highest to a year ever. A total of 45,000 new apartments are expected to open for sale this year.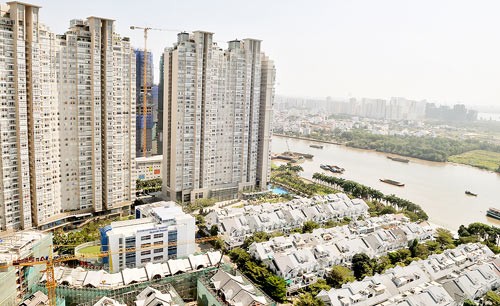 Businesses are expected to open for sale 45,000 apartments in HCMC this year (Photo: SGGP)
Last year investors of 78 projects offered for sale nearly 42,000 apartments, up 122 percent over the previous year. About 47 percent of these concentrated in the eastern areas of the city and 27 percent in the south.
Of them 36,160 apartments had been traded, a year on year increase of 98 percent, comprising over 33,000 sold to individuals, up 83 percent.
The best-selling apartments had the price of VND1.3-1.5 billion (US$58,000-67,000), accounting for 75 percent of total transactions.
Selling price in the primary market averaged US$2,012 per s.q meter, up 4.4 percent over 2014. High class products saw it rocket by 8.3 percent to average US$2,025 per s.q meter now.
Recovery signs in the market have sent investors reopen many projects that had been blanketed for many years by increasing investment capital and changing designs, apartment areas, prices and names of the projects.

Ms. Duong Thuy Dung, director of CBRE Vietnam Company's research and consulting division, said that projects with high price apartments had been quickly consumed proving that the market has entered a new period of recovery.
This year is expected to see 45,000 apartments from 90 projects of all segments touted, she said. They include some major projects inner the city with the price of VND140 million (US$6,260) per s.q meter.
Besides the east, south and north, the western part of HCMC has been a destination of many new residential projects ahead of Ben Thanh-Tham Luong metro route and satellite town projects to reduce population density in center districts.
Novaland Group would market many large-scale projects at the beginning of 2016, said deputy director general Bui Cao Nhat Quan.
Chairman of Hung Thinh Group Nguyen Dinh Trung revealed that his company was expected to tout 6,000 products of various housing segments.
Him Lam Company will provide 2,000 apartments at the price of VND1-1.5 billion. Thu Duc Housing Development Company planned to launch a slew of new projects mostly in Thu Duc and District 9 in the first quarter.
An Gia Real Estate Company has joined hands with Phat Dat Real Estate Development Corporation to restart the Everich 2 project in District 7 with about 10,000 apartments.