Ho Chi Minh City has around 500,000 elderly people. The city in particular and the country in general are facing the growth of aging population. Married women expressed they do not want to live with husband's family; as a result, who will look after elderly people?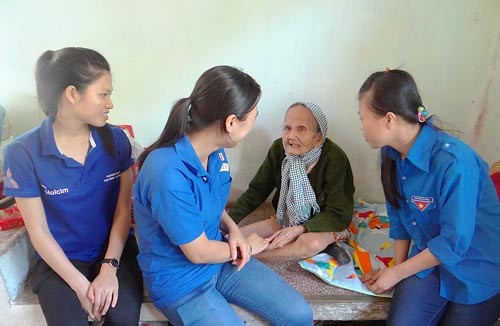 Volunteers are talking to a senior people at a center ( Photo: SGGP)
Thi Nghe Center for nurturing old people under the management of the Department of Labor, Invalids and Social Affairs is taking care of 134 senior people including 57 people of policy beneficiaries who enjoy exemption.
Additionally, the city Department of Labor, Invalids and Social Affairs has opened the two other social sponsoring centers Chanh Phu Hoa and Thanh Loc to look after senior people gratis. The number of senior people in these centers is 549.

The city has 14 facilities to take care of senior people including three public centers; three private houses and 8 others set up by religion units and individuals to take care of 453 homeless and disabled elderly people without cost. Public Thi Nghe center has service to look after special people.
The center director Nguyen Quoc Uy said that the numer of elderly people at the center is growing yet center facilities can not meet the increased demand. Accordingly the center has so far received 77 old people at the cost of VND2.7 million (US$121) a person per month.

Le Chu Giang, head of the HCMC Department of Labor, Invalids and Social Issues' Social Services Section, said that as many as young people having no time to take care of their old parent want to send their parents to center. Senior people themselves want to reside in center for old people where they can talk to their peers.

HCMC authority also encourages enterprises to open more centers for these people yet a very few businesspersons invest in this model. Three private centers are taking care of 130 old people with different cost; for instance Phuoc An Center in HCMC's Binh Tan District receives old people with the cost of VND2 million per person a month; Binh My Center in Cu Chi District where 100 old people are residing with the cost ranging from VND3- 10 million per person a month while Kinh Dong Center collects cost of VND15-25 million per person a month.

The Youth Social center in HCMC in coordination with three social sponsoring centers has launched a special service for old people since April, 2016. Every weekend, volunteers will come to center to teach old people in Chanh Phu Hoa and Thi Nghe how to sing a song and exercise with the aim to improve old people' mental health.