The Ho Chi Minh City People's Committee yesterday launched a campaign to encourage people to use public transport and help reduce traffic congestions.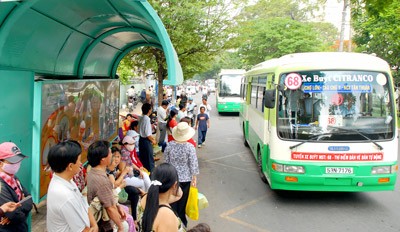 Commuters wait at a bus station in Ho Chi Minh City.(Photo:SGGP)
The campaign aims to motivate and encourage more people to commute in buses. Presently 7 percent use the bus as a mode of transport and the campaign would like to see this increase to 12 percent by 2015.

The campaign will be implemented in two phases. The first phase from July 1 to December 1 will work at persuading Party members, government workers and students to commute by bus as much as possible, starting with at least one time a week.
During the second phase that will stretch over four years from December this year, all city residents will be encouraged to adopt bus travel.

The city People's Committee has asked the Department of Transport to direct relevant authorities to improve bus services and create better conditions for pedestrians. The standards of bus service and the conduct of drivers and bus assistants has been a source of many public complaints in the past and needs improvement.

The committee also asked state-owned companies and organizations to add new disciplinary measures and reward those staff members who use the bus frequently.
The municipal administration has affirmed that it would continue providing financial assistance to bus companies in order to encourage more investment in this field.