HCMC was unlikely to obtain its set target of buying 1,680 new buses by the end of this year, said the city's Public Transport Management and Operation Center on Tuesday.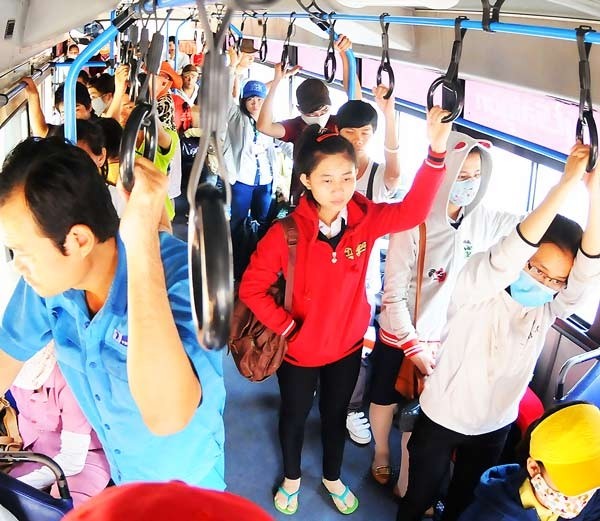 Bus passengers in HCMC (Photo: SGGP)
The statement was made at a meeting with the Urban Board of the HCMC People's Council on new bus investment, exhaust fume and waste management in public transport.
Director of the center Tran Chi Trung reported that HCMC has 2,575 public means of transport, most of them have run for over ten years and downgraded.
Therefore, the city People's Committee has approved a project to buy 1,680 buses by social capital mobilization in the phase of 2014-2017. So far, the city has bought 839 buses meeting 50 percent of the target.
Of these, 256 buses use compressed natural gas (CNG) accounting for 12.4 percent and the other ones run on diesel.
Mr. Trung admitted difficulties in getting the target by buying the rest number of buses from now until yearend as the city has issued an instruction in wring that new buses bought from 2017 on must run on CNG.
The price of CNG buses is about 33 percent higher than diesel type. In addition, CNG supply and price subsidization for CNG buses has depended on supplier PV Gas South.
On the other hand, building of CNG fueling stations has been costly and land consuming so Vietnam Oil and Gas Group has still studied measures to build the stations.
The center said that CNG buses have showed economic as well as environmental efficiency with 20 percent increase in transport volume and no black exhaust.
Statistics show that exhaust fume emission in CNG bus routes has reduced nearly 14,000 tons a year compared to diesel bus routes. CNG use brings a cost savings of 23 percent compared to diesel.
Head of the Urban Board Truong Trung Kien required the center to scrutinize the CNG use direction. In fact, the use of CNG buses has met with difficulties in prices, emission regulations and funds to buy a series of new vehicles so the city has been unable to synchronously invest in the CNG bus system.
While waiting for suitable assistant policies from the city, relevant sides should have solutions to tackle littering on buses, speed up propaganda to increase the number of bus commuters and limit private vehicles to reduce traffic jam.