A mission team led by Health Minister Nguyen Thi Kim Tien yesterday liaised with People's Committee in Ho Chi Minh City about construction works of major medical facilities and measures against Zika virus disease which is widely spreading in the city.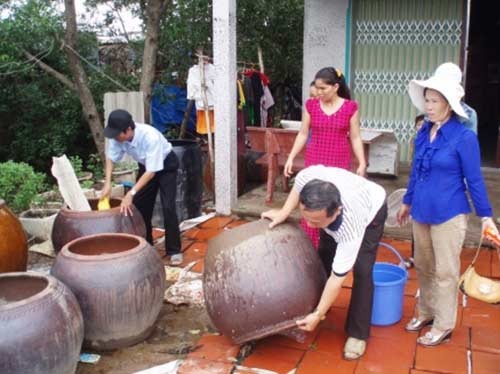 Clear water containers to prevent mosquitoes from laying eggs into (Photo:SGGP)
Director of the municipal Department of Health Professor Nguyen Tan Binh said currently the health sector is urgently speeding up the construction of major medical facilities to serve patients yet there have been some hiccups along the way. For instance, bad weather slowed the construction of the Tumor Hospital yet the contractor promised completing in next November .
While the construction of the Children Hospital with 1,000 beds worth VND5 trillion (US$ 223,825,809) is progressing smoothly. The Department is recruiting personnel for the hospital which will be operated in the end of the year. Yet, site clearance slowed the progress of Trauma and Orthopedics Hospital , said Professor Nguyen Tan Binh. He expected the construction will start in December this year and the hospital will be operated in the first quarter 2018.
Health Minister Nguyen Thi Kim Tien noticed that the city has many major constructions aiming to reduce overloaded big hospitals; accordingly, the sector should resolve hitch alogn the way to push up the speed,
Upon the Zika virus epidemic, Professor Nguyen Tan Binh said that the city health sector also implement measures against it including spraying chemicals in the area with patients as well as raise people's awareness of the disease.
Vice chairwoman of People's Committee Nguyen Thi Thu stressed that the city has adopted preventive measures including campaign to kill mosquito on Sundays and Saturdays.
Health Minister said it needs to call for the participation of the whole community.