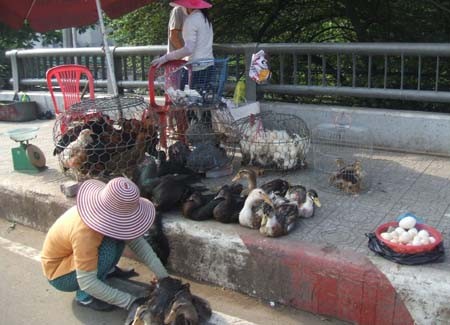 An illegal poultry shop in a bridge in District 12
The Department of Animal Health in Ho Chi Minh City on February 16 cracked down on illegal poultry flea markets in various districts in the city in an effort to contain spread of bird flu.
Inspectors went to illegal poultry flea markets in Districts 5, 8, 12, Go Vap, Hoc Mon and Binh Chanh, areas most susceptible to spread of the disease.
The most worrisome are the border areas between District 12 and Go Vap, along Cho Cau, Truong Dai and An Loc Bridges.
According to Nguyen Phuong Dong, deputy chairman of Go Vap District, health authorities in the district are coordinating with District 12 officials to tackle illegal water fowl shops along the bridge, besides also educating residents' on ways to prevent bird flu infection by consuming safe poultry.