By the closing day of the 7th Ho Chi Minh City Book Fair on March 25, it was estimated that a record 850,000 people had visited the fair, nearly half coming during the last two days of the event that saw a 20 per cent increase in the number of visitors from the sixth book fair in 2010.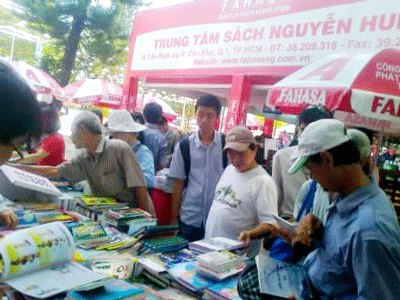 Book lovers at the 7th Ho Chi Minh City Book Fair (Photo: U. Phuong)
More than 170 businesses participated in around 500 booths, generating revenue exceeding VND30 billion (US$1.44 million) from the sale of some 4.8 million books. In addition, about 10,000 books were presented to border and navy guards.

Having no new title this year, Nguyen Nhat Anh lost first place on best-seller list to the book 'Ai and Ky in the Land of Invisible Numbers', relating to math's teaching by Fields Medal winner Professors Ngo Bao Chau and young mathematician Nguyen Phuong Van. However Anh's reprints are still on the top-ten list.

The 105 art books titled 'Vo Nguyen Giap-Patriot-Teacher-Soldier' made from Do paper, silk and lacquer, were all sold out for VND2.2 million ($105.5) each.

A large number of audience were attracted by some of the 45 book-related activities: new book introductions; discussions with authors; games for children; introduction of the book 'Ivory Comb' by Nguyen Quang Sang at the Phan Thi booth; 'Life Story of an Ambassador' by diplomat Vu Hac Bong; the marketing campaign for the series '8X Book Shelf'; and the awards ceremony for 'Most Favourite Book' and 'Family Book Shelf' by the HCMC Book Distribution Corporation (FAHASA).

Among all the activities, the most engrossing was a discussion with former female commandos, to introduce the book 'Street Angels'.