Thus, the city has basically completed Covid-19 financial assistance and will continue giving financial aids to the remaining of 0.4 percent of people affected by the pandemic by the end of July as planned.
In particular, most of the families of meritorious services to the country's revolution and poor households are eligible for the the assistance package.
Nearly 32,500 people of meritorious services to the country's revolution and nearly 124,000 people of special benefit allowance get VND500,000 (US$21.5) payment per month for each person.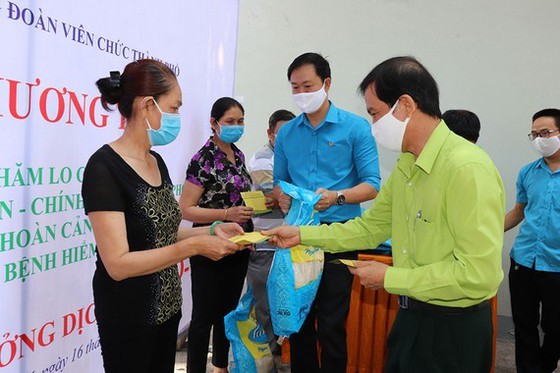 More than VND83 billion (nearly US$3.6 million) was sent to nearly 110,900 people with poor circumstance and near-poor families.

A small percentage of people belonging to case of meritorious services to the country's revolution, special benefit allowance do not receive the support because they have returned hometown or gone abroad.

Head of HCMC Department of Labor, Invalids and Social Affairs Le Minh Tan reported that more than 181,000 freelance workers, employees without labor contract and unemployed people have received VND1 million (US$43) aid for each person.

As reported, the city provided nearly VND55 billion (nearly US$2.4 million) to more than 53,000 workers whose labor contracts have been temporarily suspended due to the impact of the Covid-19 pandemic.

More than 20,500 lottery ticket vendors also received Covid-19 financial assistance of over VND20 billion (US$863,602).

Besides that, the city has also given financial assistance to 12,803 kindergarten teachers and babysitters, reaching 99 percent of the total number of those in need.

Each of business households with turnover of less than VND100 million (US$4,323) a year, having to suspend business operations in April due to the pandemic, received the financial assistance of VND1 million (US$43) a month.