Chairman of the HCMC People's Committee Nguyen Thanh Phong required 24 district leaders' commitment to him that they will basically tidy up pavements and restore street order this year at a meeting with Traffic Safety Committee, agencies and districts on March 1.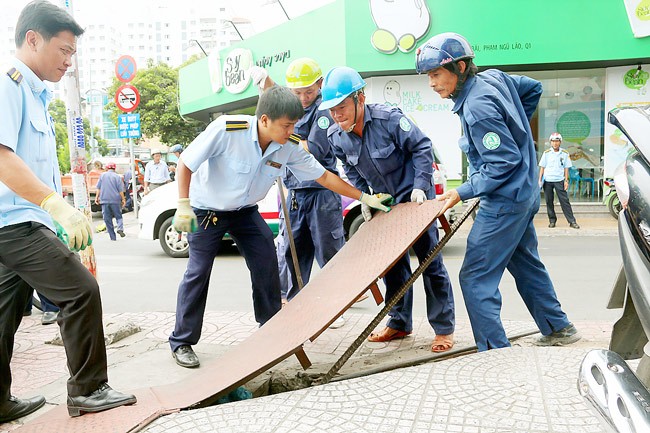 Workers remove a steel ramp from a pavement in District 1, HCMC (Photo: SGGP)
Those failing to complete the task would be proposed to to do another job, he said.
Reporting to Mr. Phong, deputy head of the board Nguyen Ngoc Tuong said that HCMC has 4,869 streets but only 2,271 routes have pavements. For the past time, the board has set up inspection teams to survey and found many business households have encroached pavements and road beds to sell goods, place sign boards and park vehicles.
Lot of restaurants have occupied pavements at night to arrange furniture to sell food or beverages. Hours long parking has occurred in some streets even in areas with no-parking boards.
Most districts said that they had attempted to tackle the issue. However, the remedy has not worked long as right after inspectors leave, citizens continue encroaching pavements to do businesses. Relevant agencies have yet to well coordinate together to solve the pavement and roadbed encroachment, which has worsened in adjacent areas of two localities or more.
Propaganda has been irregular and inconvincible to create citizens' agreement and change their awareness. Many districts' leaders have not taken drastic actions.

At the meeting, most districts said that they had instructed relevant sides to build and implement plans to streamline streets and pavements in their localities. They made a pledge of determination to settle the encroachment.

According to chairman Nguyen Thanh Phong, street order restoration has drawn much public attention so the city should implement the plan more drastically instead of following movements. Many solutions should be combined to gain high efficiency.
The plan should be carried out drastically and lawfully to contribute in bettering living environment for citizens as pavement and street infringement has much affected traffic safety and urban civilization, he stressed.
District 1 has recently made great efforts to clear pavements. For instance, local authorities have talked to 500 business households about their business premise reorganization.
Chairman Phong said that the city had issued some legal documents on pavement and street management since 2002. The matter now is how relevant districts and agencies' determination to implement the plan.
Tackling violations must abide by the law. Authorized agencies should first propose citizens to remove their furniture and goods from pavements themselves before applying coercive measures, he required.
Implementing the chairman's requirement, the People's Committee of Ward 2, District 8 on the same day sent an announcement to households, businesses and organizations in the ward, asking them to remove three step staircases, concrete ramps, lean to roofs, electric sign boards from pavements.
According to the announcement, citizens should remove business supplies, goods and ornamental tree pots from pavements in front of their houses within seven days after receiving the announcement. Afterwards, wards' people's committees will inspect and issue the fine of VND2-3 million to violating individuals and VND4-6 million to organizations according to Decree 46 of the Government.
At a cabinet meeting yesterday, Prime Minister Nguyen Xuan Phuc appraised HCMC for its efforts and determination to clear pavements for pedestrians.