Ho Chi Minh City's consumer price index (CPI) in August fell by 0.25 percent from the previous month, the second drop in a row this year.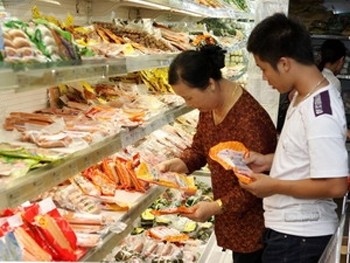 Customers choose food at a supermarket in HCMC
The index rose by 4.52 percent since the beginning of the year and 8.21 percent over the same period last year, said Director of the city's Statistics Department Du Quang Nam .
Among the 11 surveyed groups of commodities, the price of post and telecoms services enjoyed the sharpest decrease of 4.71 percent, while the prices of food, restaurant services, and foodstuffs dropped by 0.77 percent, 0.13 percent and 0.06 percent, respectively.
Household utensils saw the highest CPI rise of 0.65 percent, followed by the group of housing-electricity-water-fuel, at 0.42 percent, and transport services, at 0.38 percent.
The prices of cultural-entertainment-tourism services were up 0.26 percent, and those of garments-headwear-footwear climbed by 0.12 percent and health care service, 0.11 percent.
During the month, the price of gold declined by 1.3 percent and the US dollar was up 0.77 percent over July.