About 6,500 foreign tourists have booked tours to arrive in Ho Chi Minh City on the first day of the New Year, and 3,090 visitors arrived at Tan Son Nhat Airport by 3:30 pm.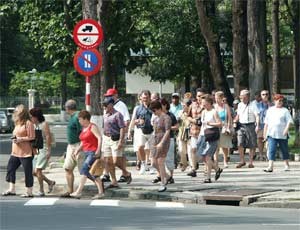 A group of foreign visitors go sight-seeing in Ho Chi Minh City. (Photo: Viet Dung)
Among the arrivals were 785 overseas Vietnamese, who are reuniting with their families.
At 7:30 am, the Ho Chi Minh City People's Committee, the Tourism Department and tour operators welcomed the first group of foreign tourists to the city in 2007. The group of 307 Europeans, mostly from France, flew with Vietnam Airlines to Ho Chi Minh City from Paris.
This is good news as the number of the visitors is almost three times higher than the number of the first group of foreign tourists in Ho Chi Minh City last year.
Tourism Department deputy director La Quoc Khanh said it was a good signal for 2007, in which the city expects to welcome 2.7 million visitors, up 15% year on year.