The Ho Chi Minh City Department of Transportation has submitted to the city People's Committee three plans to set higher traffic fines against traffic law infringements under a new decree that will take effect May 20.
The Government's Decree 34 allows the city and Hanoi to apply fines 40-200% higher than the normal fines effective in the whole country.

The department's plans aim to identify which streets are in inner-city areas and which are outside.
Plan 1 covers 19 districts: 1, 2, 3, 4, 5, 6, 7, 8, 9, 10, 11, 12, Binh Thanh, Phu Nhuan, Thu Duc, Go Vap, Tan Binh, Binh Tan and Tan Phu.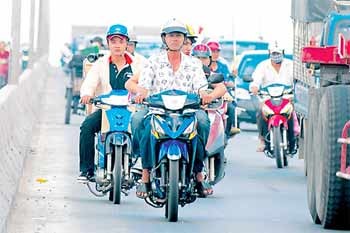 Motorbikes occupy the lane for automobiles on the Saigon Bridge on May 8, 2010 (Photo: SGGP)
Plan 2 expands Plan 1 by adding to it National Highway 1A; East-West expressway; Nguyen Van Linh, Pham Hung, Huynh Tan Phat and Nguyen Huu Tho streets; road 9A; the HCMC-Trung Luong expressway's section in Binh Chanh District; and a part of National Highway in Cu Chi and Hoc Mon Districts.
Plan 3 includes Beltway I and the roads connected with it, and the National Highway's section running from Nguyen Van Linh street to the Thu Duc crossroads.
The plan puts aside districts 2, 7, 9, Binh Tan, and Thu Duc, where the traffic situation is relatively complicated.
Feedbacks from agencies concerned about the three plans are different.
The city Justice Department prefers Plan 2, saying it is easy to implement. The city Traffic Safety Board wants Plan 1, as the plan covers all the inner-city districts. Meanwhile, the Police Department are in favor of Plan 3, since they want heavier fines to be applied firstly for Beltway I and routes connected with it.
In a report to the city authorities, the Transportation Department said it prefers Plan 3.
The city People's Committee will select one of the three plans by May 10, tens days before the decree takes effect.

Under the new regulations, fines imposed on traffic rule violators will be much higher, even tenfold, than the current levels.
For instance, a fine for car drivers jumping the lights will be VND600,000-800,000 compared with the current VND200,000-400,000. 
Motorbike drivers who do not bring along with them a driver's license or a vehicle registration certificate will be fined VND60,000-80,000, an increase of 50 percent from the current rates.
Pedestrians also face a fine of VND60,000, a rise of VND20,000, if they walk on roadways. 
Those who illegally occupy roadways or sidewalks for their business will face a penalty of VND500,000, ten times higher than the current rate.
The Decree also allows HCMC and Hanoi to levy fines that are 40-200 percent higher than the normal rates.