Secretary of the Ho Chi Minh City Party Committee Dinh La Thang on March 31 had a working session on information technology cooperation with representatives from the US Microsoft Corporation.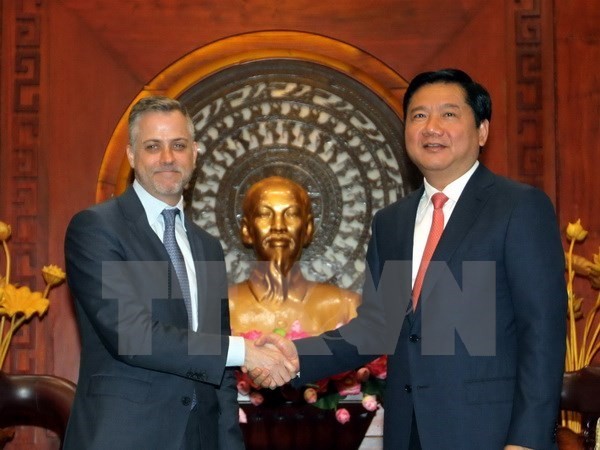 Secretary Dinh La Thang (R) and Vice Chairman Mark Day (Source:VNA)
At the event, Secretary Thang said HCM City and Microsoft should cooperate in information technology in various fields, such as smart traffic management, anti-flooding and anti-crime programmes, and food safety.
He also asked the company to support the city as it develops e-government, bringing about great change in local governance and administrative offices.
Mark Day, Vice Chairman of Microsoft, said that the firm is willing to cooperate with the city on information technology, transportation, the environment and food safety.
He also said that Microsoft recently worked with the Ministry of Public Security on information security.
HCM City has the largest population density in Viet Nam. In urbanisation process, the city has encountered a number of enormous challenges resulting from the rapid growth of its population, including increasing pressure on its infrastructure and ability to provide essential services such as transportation, health care and education.