A solemn ceremony was held in Ho Chi Minh City on April 29 to mark the 38 th anniversary of South Vietnam Liberation and national Reunification Day (April 30).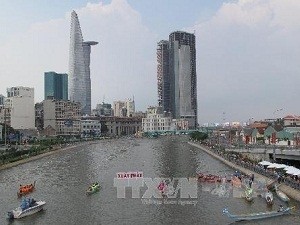 Ho Chi Minh City (Photo: VNA)
Former Prime Minister Phan Van Khai, Defence Minister General Phung Quang Thanh, and Secretary of the municipal Party Committee Le Thanh Hai attended the event, among others.
Addressing the meeting, Chairman of the municipal People's Committee Le Hoang Quan affirmed the significance of the historical 1975 Ho Chi Minh campaign, which freed the south from the US invaders and reunited the country.
He described it as a victory of the national, social and human liberation cause under the leadership of the Communist Party of Vietnam and President Ho Chi Minh.
The armies and people of Sai Gon (former name of HCM City) made considerable contributions to the victory, he added.
Over the past years, HCM City has made efforts to overcome difficulties and make breakthroughs in its socio-economy. The city has helped curb national inflation and maintain a suitable growth rate, the chairman said.
On this occasion, war veterans in central Quang Tri province gathered together to review the tradition of revolution as well as the great devotion of the armed forces to protect Quang Tri's ancient citadel in 1972, and marked 41 years of the province's liberation (1972) on the same day.
Other activities to remember the south's liberation and national reunification were held nationwide.