The Party, authorities and people of Ho Chi Minh City have made efforts to forge friendship and cooperation with Lao localities, ministries and sectors.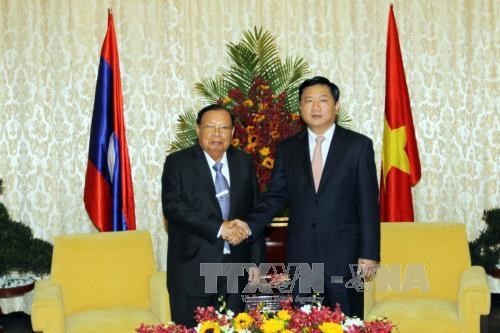 HCM City Party Committee Dinh La Thang (R) and Lao Party General Secretary Bounnhang Volachith (Source: VNA)
Secretary of the municipal Party Committee Dinh La Thang made the statement at an April 26 reception for Lao Party General Secretary and President Bounnhang Volachith as part of his official visit to Vietnam.
The municipal Party Secretary expressed his belief that with sound leadership from the Lao People's Revolutionary Party led by Bounnhang Volachith, the country would gain significant achievements, including implementing the Resolution of the Lao Party's 10 th Congress as well as the five-year socio-economic development plan.
Secretary Thang expressed pleasure at cooperation between Vietnam and Laos in all fields, highlighting the friendship and solidarity between Laos and the city.
The city implemented cooperation projects with Lao localities, including on beef cattle farming in the Lao capital of Vientiane, he said.
The Lao leader spoke highly of the development the city has made over past years.
He also hailed cooperation between the city and Lao localities and expressed his hope that they will build on that momentum to expand cooperation in various fields.