Ho Chi Minh City expects its economy to expand by between 7.5 percent and 8 percent this year, city chairman Le Hoang Quan said Monday.
Addressing a regular meeting of the city's administration, the chairman of the People's Committee asked State departments and agencies of the southern economic hub, as well as businesses, to make greater efforts for this expected growth amid the current economic downturn.
He said the city is focusing on implementing stimulus measures, promoting production and export activities, improving competitiveness and exploiting the domestic market.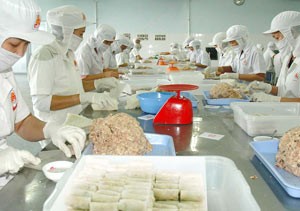 Workers of Vissan make spring rolls. The company is among Ho Chi Minh City-based businesses that are accelerating goods production for the year-end and lunar New Year. (Photo: SGGP)
Mr. Quan noted that in the first ten months of this year, the city's service sector expanded by 18.6 percent, industrial sector by 7.2 percent, and agriculture by 6.8 percent.
Given with the performance, the growth target of 7.5 percent is feasible, said Ms. Quach To Dung, deputy director of the city Department of Industry and Trade.
The southern economic hub is currently accelerating implementation of major construction projects, supervising and cutting down ineffective and unnecessary public projects to raise the effectiveness of investments and to ensure the quality of the projects, chairman Quan said.