"As you know life is impermanent. You can work and accumulate huge property and financial wealth but you cannot bring anything together with you after your strength and power out. So I decided to use every moment of my life to build timeless works for Vietnam where I met my wife 20 years ago and which I have chosen to be my second homeland", said Mr Chu Nap Kee Eric- President of Investment Joint Stock Company Times Square Vietnam.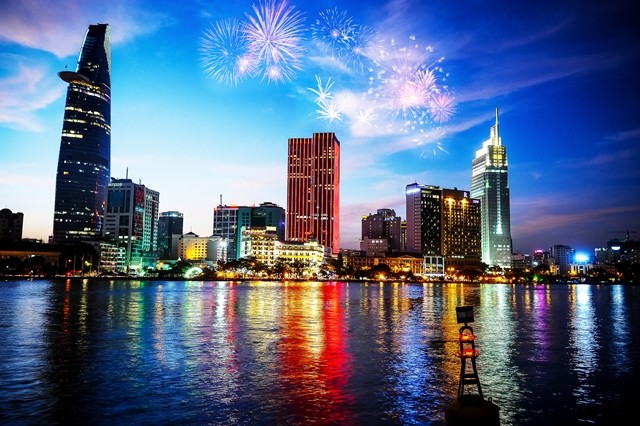 Times Square Vietnam Building and its neighbors draw a very beautiful painting of Ho Chi Minh City.

Recently, image of Mr Chu always attaches with building Times Square Vietnam which is considered a golden address in the city downtown.
Positioning in the downtown of Ho Chi Minh City, the skyscraper can catch visitors' eyes while they are walking along Dong Khoi Street towards Saigon River thanks to its majestic beauty.
Emerging from the building, the Reverie Saigon Hotel is the only 6-star hotel in the city. The hotel consisting of 286 rooms including 62 European style luxury suits is the first hotel in Vietnam recognized as a member of Leading Hotels of the World. The Riverie Saigon Hotel is also the only hotel in the country was voted by CNN as one of the ten opening soon hotels to be most waited for in the world this year.
The hotel was decorated by Italian well-known designers
In addition, the building provides 89 luxury condos, 12.000 square meter of A-level offices, five international standard restaurants with Asian and European styles, an European theater style deluxe lounge which can accommodate events of up to 1000 guests. The lounge with gemstone gates and pillars is rare in having glass wall facades.
The convergence of the world's most luxurious brands for interior decoration and furniture including Italian brands such as Colombostile, Baldi Home Art, VG New Trend, B&B Italia, Visionnaire, Giorgetti, Poltrona Frau, Cassina, Cappellini, Medea, Snaidero, Vittorio Grifoni, Rubelli, Venini… shows that this is a golden destination of the city. Every brand displays its own impression and is blended in the interior design style of elite apartments of the Riverie Residence and hotel space the Riverie Saigon.
Every glass window of the building looks at a beautiful corner of the city
It is easy to recognize the significance of the Riverie Saigon is a daytime dream and a destination where visitors are self-made charm of endless discovery with unlimited emotion, space and time. Every glass window of the building faces a beautiful corner of the city. Outside architecture of the Times Square Vietnam is very impressive because of its iconic style that makes the glass wall facade skyscraper emerge from the blue sky.
Along with outstanding level of design, the building is well-known as a phenomenon in investment which has taken a lot of ink and paper of both domestic media and international media. It has been praised as a super luxurious hotel which meets standards to receive most famous politicians and most elite people in the world. Although the hotel has just opened to the public it was honored to welcome Italian President Sergio Mattarella; Iceland President Ólafur Ragnar Grímsson, members of British Royal and Malaysian Royal, British famous footballer David Beckham, billionaire Richard Brandson…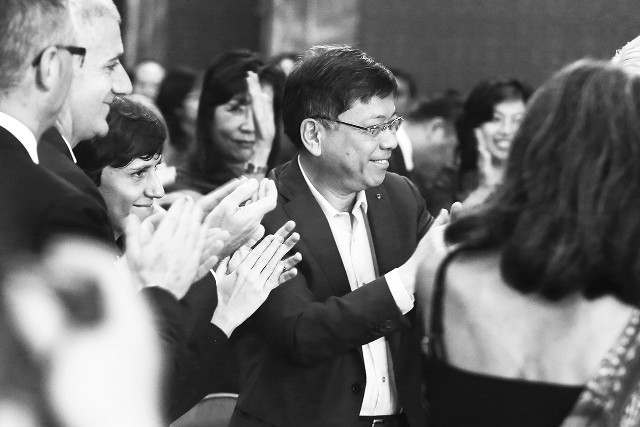 The filed photo shows Mr. Chu Nap Kee Eric welcomeing distinguished guests at the official inauguration ceremony of Times Square Vietnam Building.
Mr Chu sincerely said: "Vietnam is a beautiful country. We have everything... Before being a tourist heaven Dubai had been a desert. Why Vietnam cannot? For me, time is a the most precious thing I will spent every moment of my life and use all my strength to build lasting valuable works to say thank to Vietnam because the country has given me opportunities to realize my ambition and gave me my wife who always shares my dreams".
With their enthusiasm and consensus Mr Chu and his wife Truong My Lan, who is the president of JSC Van Thinh Phat Investment Group, have built remarkable works such as Times Square Vietnam Building, An Dong Plaza, Sherwood Resident Apartment Block… The couple is unanimous in their desire which encourage them to contribute to tourist development of Vietnam, marking Vietnam as an ideal destination.