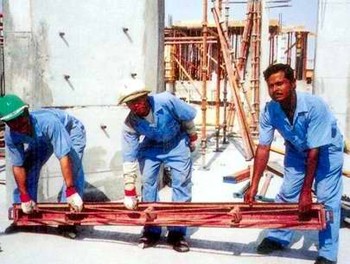 Vietnamese workers at a construction site in Dubai. (Photo: TTO)

Poor people going abroad to work can get a loan of up to VND100 million (US$ 5,700) to fund their trip, the Ho Chi Minh City Department of Labor, Invalids and Social Affairs announced Wednesday.
The loans will be given by the Poverty Alleviation Fund, the Vietnam Bank for Social Policies, and the Vietnam Bank for Agriculture and Rural Development.
In related news, the department said the number of workers going to new destinations like Portugal and Australia remains low while demand in Japan seems to be tailing off.
Its director, Le Thanh Tam, said it had hoped to send 15,000 workers abroad last year but barely managed to achieve 75 percent of the number.
The situation is likely to worsen because of the global recession, he warned.
Korea is still the top choice for guest workers because while salaries are high, skill requirements are not.