A total of 152 golfers will compete in the Saigontourist Golf Tournament 2008 on August 2, an annual event held by the Saigontourist Company to raise funds for poor patients.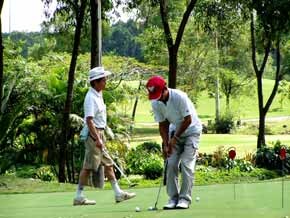 Golfers play at the Vietnam Gold and Country Club (Photo: Tuong Thuy)
The contest will kick off at 12 pm at the Vietnam Gold and Country Club in Ho Chi Minh City's District 9. The award ceremony will be held on the same day at the Caravelle Hotel.
The golfers will compete in four groups. In addition to the usual first, second and third prizes for each group, the organizer will offer two special "Hole-in-one" prizes of Mercedes cars, and Best Gross, Near Pin, and Long Drive prizes.
Via the tournament, Saigontourist is raising funds to sponsor heart surgery for poor patients through the HCMC Sponsoring Association for Poor Patients. This is the third year the company has organized the charity tournament. Last year, it raised VND320 million for the association.
This year's main sponsors are RGB, the International Travel Club, Vegas Club, and Kohler. The co-sponsors are Newland Co., Hung Phu Gia, Caravelle Hotel, Vinda Steel, Saigon Rita, and Vina Invest.