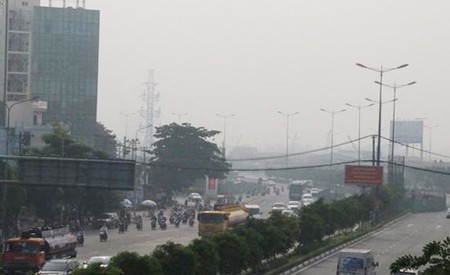 The recent smog phenomenon in HCMC (Photo: SGGP)
Many areas in Ho Chi Minh City (HCMC) yesterday experienced heavy smog again. The specialized website on air quality Air Visual continuously warns residents of severe air pollution that can negatively affect their health.

According to the conclusion report, the main reason is the combination between temperature inversion and high humidity. This has resulted in a trap of existing pollutants and made the air stiller and murkier, also known as photochemical smog.
This disturbing phenomenon happens annual in 6-7 days during September and October when Southwest monsoon weakens while the cold air mass from the North is moving slowly to the South. It leads to an intertropical convergence zone and subsequently temperature inversion.
Obviously, the underlying cause of the recent heavy smog is existing pollutants and dust in the air of HCMC, most of which come from human activities like vehicle exhaust fumes, industrial manufacturing, accommodation and road construction.
Despite the warning of environmental specialists many years ago, HCMC has still paid little attention to tackle air pollution.
For instance, the proposed plan on controlling the development and activities of vehicles in the city is still in the evaluation status.
Meanwhile, public transport which should have been widely promoted is steadily decreasing. Buses using compressed natural gas (CNG) encounter difficulties coping with the fuel cost increase. It is true that related state agencies are showing their lack of effort in pursuing projects to alleviate air pollution, yet the public itself is also responsible for the apathetic attitude towards public transport.
In addition, as HCMC is expanding and growing, there is no way to avoid dust and smoke released from construction activities. Yet constructors show no interest in observing the regulation to cover the sites and water the ground in time to prevent dust from lifting into the air.
What is more, although the municipal authorities are trying their best to move polluted manufacturing plants to suburban areas while supporting these factories to upgrade production technologies in hope of reducing industrial waste, many small individual businesses do not care for this.
A senior environmental expert has warned that environmental pollution does not leave immediate negative effects, and thus discouraging the interest of the society. However, it gradually penetrates our life and harms our health to the point of no return.
It is high time that citizens and the local authorities in HCMC cooperate closely with each other to alleviate air pollution. Otherwise, the price they will pay in the future will be so dear.